Safe amid the billows
In 1896, Patrick Thompson Taylor, businessman and alderman, was elected Mayor of Mosman.
The Scottish emigré had come up in the world and "was a prosperous man, a respected figure in the Sydney establishment and a member of the prestigious Union Club and the Royal Sydney Yacht Squadron, with friends in high places."
These were pioneering days when the interests of progress, self-made opportunity, politics and financial gain tended to go hand in hand. By 1896, P. T. Taylor was a major shareholder in the North Shore Steam Ferry Co.1
Taylor was a director from 1899 when the company was reconstructed as Sydney Ferries Ltd. From this basis in local shipping, he acquired interlocking directorships in steamships, gas companies (purchasing coke for his vessels), iceworks (using a gas works' residual product, ammonia) and insurance. His business interests benefited from urban growth on the North Shore and from financial management involving share-splitting.2
Mosman Council had been formed in 1893, and Alderman Taylor was one of its founding fathers. Breaking away from North Sydney, an election was held on the 6th of June with votes cast at a skating-rink in Mosman.
Alongside Taylor were elected 5 other businessmen "of one kind or another", a librarian in charge of the NSW Public Lending Library, a conveyancer and former North Sydney Alderman Archibald McAlpine.3
On nomination by MacAlpine, seconded by Taylor, [Richard Hayes] Harnett was unanimously elected Mayor for the balance of the year … At their next meeting, on 15 June, the aldermen began dealing with many of the inaugural matters that required attention. They resolved that there should be three standing committees (Works, Finance and General Purposes) and a Committee of the whole Council; that the position of Council Clerk, Treasurer, Inspector of Nuisances and Collector of Rates should be advertised at a salary of 75 pounds; that office furniture, a safe, cash box, stationery and copying press be purchased or rented at an initial cost of no more than 25 pounds; that a temporary bank overdraft of no more than 200 pounds be obtained; that two temporary maintenance men be employed to keep gutters clear; that a committee be appointed to report on the removal of nightsoil and garbage; and that Mosman's financial position vis-à-vis North Sydney Borough be ascertained.4
At the second meeting a simple crest, seal and letterhead symbol was adopted, designed by Bulletin artist Livingstone Hopkins, resident of Raglan Street, featuring a spouting whale surmounted on the horizon, backed by a rising sun. (The cannons and HMAS Sirius were added later in 1952.) A Mr White of Neutral Bay submitted the Latin motto Tutus in Undis which translates roughly to "Safe Amid the Billows" or "Secure in the Waves." As historian Gavin Souter notes, the phrase was not to be found in any dictionary of Latin quotations, so its exact meaning remained ambiguous.5
In October, 68 street gas lights – lit by a horseman with a lamp-pole at dusk – were installed.6 (By 1916 they were replaced with electric lights.) Mosman was serviced by the North Shore Steam Ferry Co which connected with tramways that ran up Avenue Road from Mosman Bay wharf, along Military Road, through Spit Junction to Cremorne, Neutral Bay and North Sydney. In 1916 the line was extended from Mosman Junction to Taronga Zoo and then down to Athol and a new wharf.
By 1896, Mosman Council had outgrown its rented premises and resolved to build a council chambers at the corner of Spit and Military Roads at the cost of 1,100 pounds, which they did in 1900. (This is the current site of the council, rebuilt in 1940 and 1988.)7
The Sunday Times described Mosman as a "progressive borough" — twenty minutes' "steaming distance" from the hustle and bustle of the city. The council's founding Aldermen and Mayor were borrowing and spending on capital works and encouraging economic and urban development, resulting in "well-formed roads and handsome residences."
Main streets were connected to the city water supply and gas from the North Shore Gas company. Mosman was being transformed from "an old time sylvan and rustic village" to "a beautiful and salubrious suburb."
A description of Mosman would be incomplete without some reference to some of the older residents who have identified themselves with its rise and progress, such names, for instance, as Mr. E. M. Sayers, the first returning officer of the municipality ; Mr. R.Harnett, au extensive landowner, and one of the pioneers of the district ; Mr. Alderman Cowles, and Mr. P. T. Taylor, J.P., the present mayor …

Doubtless many erstwhile admirers of Mosman will regret its transformation from a convenient rural pleasure resort to a pretty and flourishing residential district, but such a change was rendered inevitable sooner or later by its unrivaled position and proximity to the city…

… It should be the aim of the Municipal Authorities to preserve as far as possible the natural beauties of the foreshore which forms on three sides of their borough and thus secure for the place a widespread and permanent popularity …

It is somewhat significant that the awakening of Mosman and its remarkable progress has been subsequent to its separation from North Sydney and its creation into an independent Municipality a little more than three years since.8
Born of sylvan solitude
It was into one of these handsome residences — "Newstead" in Raglan Street — that Patrick Thompson Taylor's 3rd son was born in 1896 – the same year P. T. Taylor became Mayor of Mosman.
Patrick Gordon "Bill" Taylor grew up with his father and mother, Alice, two older brothers, Donald and Kenneth, and sister, Norah.
He disliked his first and second names and preferred to be called "Bill" and from an early age his family obliged — all except for mother Alice who called him Gordon.9
The family home at Mosman had an extensive garden, which was a perfect setting for exploration and imaginative games. Young Bill soon found he had an affinity for nature and the great outdoors … in the summer when the daylight hours were long, it was quite a task for Alice to pursued him to come inside to bed. His mother gave him plenty of patient, loving attention and they formed a close and lasting bond.10
"Newstead" had stables to house polo horses which were exercised at the Bayview family estate and holiday home at Pittwater. They also owned real estate in Sydney and "Moyne Farm" near Lithgow.11
Bill Taylor's school days
For his education Bill was sent to Mosman Church of England Preparatory School ("Mosman Prep") in Shadforth Street.
At the opening of Mosman Prep in 1904, the Mosman Mail reported the founding headmaster A. H. Yarnold's intent to make the school "a place of education of the good type," and his mission to mould the younger boys' minds and manners, ready for their "parent institution" — Sydney Church of England Grammar school ("Shore").
Mr Yarnold's speech had gone on to expound his philosophies of education, including the need to imbue students with a solid grounding in the Classics — his nickname "Tibby" was said to come from the latin verb tibi.
The next speaker, Judge Beckhouse, reportedly got up, cleared his throat and proceeded to deliberate his own views on childhood education saying —
He had come to enjoy himself and not to make a speech. Perhaps the opening was being carried out with too much talk. What should be taught young people was to hold their tongues, and while it is good that they should do so in English it is well that they should be taught to hold their tongues in other languages also! (laughter and applause)12
"Tibby" Yarnold was described by those who knew him as "a prototype for Mr Chips" — a fair minded disciplinarian who set high standards for his students — right down to his shoes, which were so polished and buffed that you could see your face in them.13
Having served many years as a headmaster, students were still amazed at his dedication and energy.
A master of all subjects, coach of cricket, football and athletics. I can still picture him, a small man with white spindly legs coaching us football on cold and windy afternoons at Rawson Oval, with its wonderful views. Softly spoken … he was still able to wield his cane with considerable effect.
Bill does not mention the impact or impressions made by his teachers but the sternness of Mr Yarnold must have been in stark contrast to the safety of his mother's apron strings. His first experience of other school children was, in his own words, "obviously the fate of all small boys, of which I was one."
He recalled later in life that new students were objects of "scorn and hostility."
I went the first day cheerfully, without protest of any kind. It must have been a relief to my mother who had the responsibility of launching me. The second day I refused absolutely to go … I had gone that first day with the feeling of unconditional friendliness towards creatures who, I felt, were in similar straits to myself, and who, I anticipated, would be glad to reciprocate my outlook.14
After the shock of his first day he resolved — with a firm intention to take no notice of anybody —
… to go through the hours of tuition with the fatalistic endurance of the inevitable, and to return to my own hunting grounds as soon as I was released. It was difficult to do this. I came into contact with other boys, and, having a friendly disposition, found my principles of isolation falling down. There were setbacks which I could not understand and that I strongly resented.
Bill's parents had coaxed him back to school, but he was never able to fit the mould of an institution that prized competition over camaraderie.
I was confident with the things that mattered … I could beat the other boys. I felt that it should not be necessary to defeat them to become friendly. I have encountered this all my life, and am still at a loss to know why it should be. In the course of time I made a few friends, but never became part of the school.
In time, Bill like his older brothers went on to the exclusive GPS "Shore" School, North Sydney.
Although bright and fairly athletic, Bill fared little better at early secondary education. He found the regulations and prejudices of school life difficult, preferring the great outdoors where he could apply practical skills and let his imagination run free.
He constantly dreamed of escaping to the arcadia of his family estate at Pittwater.
Lion Island was a place where he could develop his bush skills, sail, swim, canoe, climb trees, run, long jump, catch fish, collect and blow birds' eggs, build sand castles, dream and skylark.
It was "an ideal place for adventure and imaginary explorations."
As a result Bill was sent to board at The Armidale School, New England, an up-country version of Shore in the northern New South Wales tablelands. After initial attempts at absconding he came to the realization that —
I either had to be destroyed by the anguish of exile, or beat it by vigorously entering into the life of the school. After a period of morose existence, which was about the most unhappy of my life, I suddenly decided to enter into the school life and make something of it. In the following four years I accepted the life pattern my parents had laid down for me but never gave up my world of the silent hills and the sea.15
It was a big turn-around for Bill. He not only excelled at athletics, swimming and rugby but also joined the school choir, camera club, became a librarian and editor of the school magazine. He was given an award for Latin and made a senior prefect. He just passed mathematics, and had no time for mathematical theory (but applied himself later in life when faced with the technical skills needed to navigate an aeroplane).16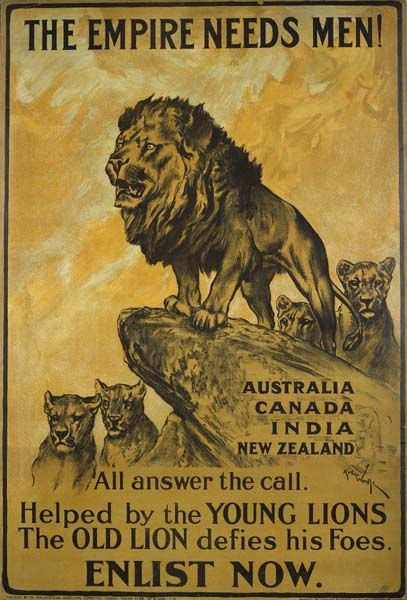 The Empire needs men!
When war came in 1914, Bill and his school mates were very keen to enlist.
We saw it as a glorious adventure. Most of us were afraid this war would be over before we were old enough to join in … In this atmosphere of high adventure that we breathed at the time there was sufficient excitement to conceal the stark truth of what war really meant — squalid hardship, maiming, an agonized death in some far land.17
Having moved on from Mosman Council, and with his eldest son looking after the "family affairs," Patrick Taylor Snr consented to his remaining sons fighting for king and country.
There were three sons in our family. Under the volunteer system of enlistment in Australia it was decided as a family policy that my brother Kenneth and I would go to war. Since my father was already engaged in national work for the government, our older brother Donald would remain at home to help maintain the family affairs. It was, we thought a fair allocation - two out of three to go. Donald later took a war job as a mate of a collier working on the NSW coast. This was a rugged existence which to some degree relieved his frustration at having to hold the fort back in Australia.
Bill transferred from Armidale school cadets directly into the AIF as a 2nd lieutenant, putting a medical degree at Sydney University permanently on hold. He was posted to Liverpool training depot in command of a platoon.
He had avoided the cloistered rigors of a university education, but — even though he enjoyed the outdoors life with men in his platoon, who hailed from all walks of life — months of endless drilling on dusty parade grounds with no sign of overseas service meant he had become stuck in the type of world his spirit had always wanted to escape.
Call to the winds
Despite his frustrations, Bill's life was to change. He had a type of epiphany returning from leave on the train to Liverpool camp. After reading an illustrated account about barn-storming British aircraft "causing the most satisfactory destruction" to a German Zeppelin base, he realized his life mission was to fly. To him the aeroplane represented "a wild expression of freedom" and had a real sense of purpose.18
I knew immediately this was how I wanted to go to war. I wanted to fly one of these aeroplanes, to get to grips with the enemy without all the sordid complications of war on the ground.
He applied immediately to join the Australian Flying Corps — and had his request just as promptly rejected! Disappointed but undaunted, he put it to his father, "whose support I knew I would have to gain anyhow."
He didn't say much, but I could see he was horrified. To him the very act of flying was dangerous. But flying in a war - that was suicide. Of course, I didn't see it all his way at all. To choose this form of warfare seemed entirely logical, when the alternative was to sit in a trench without being able to do anything about it. An aeroplane offered a means of individual expression. With it a man could to some extent control his own destiny.

I finally prevailed upon him to agree to my going. I think he gave in because I was so set upon it than on account of my enthusiastic reasoning. But as soon as he had agreed, he did everything in his power to get me away as soon as possible.19
2nd lieutenant Bill Taylor finally had his leave granted. In the accepted manner, he paid for his own passage by ship to England and was then free to apply for the Royal Flying Corps (RFC).
Triplicated letters of introduction and instructions about the best way to go about the application process from Patrick Taylor Snr helped Bill to get to the final interview. This proved the easiest part, as the recruitment officer seemed more interested in his age, social background, schooling and whether or not he could ride a horse, rather than his potential aptitude for flying!
After graduating from flying school, Bill got his on-the-job training.
Taking off, flying and landing a plane was an exhilarating and dangerous experience for new recruits.
Bill managed to transfer away from an instructor who had suffered a nervous breakdown in France. He was one of the lucky ones. The death of his friend and Rhodes scholar" Anzac" Whiteman killed whilst making a landing, was a deep shock for Bill. No longer the light-hearted and heroic venture he had dreamed about, the reality of flying in a war was-as his father had argued – a serious and deadly business.
Having survived more than a few hours in the air he was assigned to 66 Squadron RFC in August 1916. He went on to beat the odds and fly missions over the Western Front until war's end.
A successful fighter pilot and "ace" (this term only came into use after the war) Taylor was awarded the Military Cross in July 1917 and promoted to captain.
Captain "Bill" Taylor served with 94 and 88 Squadrons RFC until 1918.
The sky beyond
Like many of his generation, the war had filled Bill with a spirit of restlessness. His father's plans for him to take his place in the world of business was not the future Bill could settle into — his ambitions lay elsewhere.
He returned to his childhood idyll of Pittwater and kept flying.
In the years that followed Bill Taylor performed legendary feats as a navigator and co-pilot on Sir Charles Kingsford Smith's Southern Cross and Charles Ulm's Faith in Australia.
Bill's record-breaking international flights made him a household name alongside Ulm and "Smithy".
He documented his experiences and recalled them in a series of autobiographical books: Pacific Flight (1935), VH-UXX (1937), Call to the Winds (1939), Forgotten Island (1948), Frigate Bird (1953), The Sky Beyond (1963) and Bird of the Island (1964).
Bill Taylor's connection to Mosman also included marriage to his second wife, Eileen Joan Broadwood, at the Methodist Church, Mosman, on 10 May 1938.
Eileen died in 1950.
The silent fields
In 1951 Bill re-married. With wife Joy, he traveled to France in 1960. Driving from Paris to revisit the squadron base at Vert Galant farm, memories came flooding back..
"I began to feel a little lost, as though we should not have come; that my wartime life had passed, and should be left undisturbed" — and then he remembered — the hangars, "the fold in the ground where I used to hare down the valley in my Pup," the deckchair under the apple trees where he would sit and reflect on ways to outwit the deadly German Albatros fighters. "Suddenly I felt as though I had come home."
The village of Estrée-Blanche near the aerodrome also brought back "vivid evocations" of the life Bill had known in 1917.
At the side of the road Joy picked some flowers and they drove on via Hazebrouck to find Ken's grave in the Mendinghem war cemetery.
In 1917, Ken Taylor was a 2nd lieutenant stationed with the 184th Royal Garrison Artillery heavy guns behind Ypres. His unit was cut off in a German advance. Ken took on the responsibility of trying to establish communications with his headquarters, but was killed riding out of his lines on a motorcycle.
At the time of Ken's death Bill had intended to visit his brother. By chance an airman in Bill's squadron had run into Ken whilst on leave. He passed on the message that Ken was stationed south of Ypres and Bill had written to tell his mother the good news.20
Unfortunately next letter home brought the news that Ken had been killed. Bill flew across the French countryside in order to visit his brother, alas too late. After landing in a nearby field he was directed to Ken's final resting place. The memory was clear
It was a warm, windless day, very peaceful in the stillness by the new wooden crosses. I found Ken's grave. He was there; but not, I felt buried in the earth. I walked back to Proven, to where my Sopwith Scout waited. I had made my personal pilgrimage to Mendinghem.21
Memories of his older brother trying to teach him how to sail on the sparkling waters of Pittwater and Sydney harbour would have felt like a past life in the context of the Western Front. For the Taylors, like many other families, their grief was both close to home and half a world away.
Bill would have to compartmentalise his feelings. It was a lonely journey back to base with only his trusted "Pup" for company.
When Bill made the 2nd trip to his brother's grave— with wife Joy in 1960 — the wooden crosses had been replaced by white marble headstones in a permanent memorial.
He gave expression to his thoughts.
Nothing can justify the sacrifice imposed by the madness and greed which are the cause of war, but to find that this sacrifice is still remembered and honoured forty-three years later leaves a cleansing air over the scene of its offering. There at Mendinghem a retired British soldier in a brave Red Beret tended the graves with simple, daily care; and the place itself was filled with quiet tranquility. It is a good memorial to brave lives. We left our flowers from Estrée Blanche below the clean white headstone, and after taking leave of the Mendinghem guardian, we went our way towards Ypres.
Their journey continued through quiet villages rebuilt after the war.
… on the way south from Ypres there were more names Messines, Ploegsteert, Armentieres, Neuve Chapelle, and others; all immortalized by the desperate battles which had been fought there. But there was no sadness or morbidity, simply the same serenity we felt at Mendinghem. This was a land charged with valiant endeavor, quiet now with the peace of great sacrifice.22
In 1917 the Western Front ran like a gigantic scar through Flanders — a pock-marked, apocalyptic landscape of mud and obliterated villages. Flying over enemy territory was a deadly business.
The freedom to get into a car and drive through towns and areas that were once behind German lines, however, caused Bill to experience what we would refer to as a mild (and understandable) form of post-traumatic stress. The names and associated meanings of geographic locations (in Northern France and Belgium) still resonated years later in Bill's mind. The "Ack-Ack" and "Hun E.A." had gone but the survivor's memory of them had not.
Bill's final quest was to find the last resting place of Captain Albert Ball, the famed British fighter ace. Bill had known him during the war and greatly admired his character, and skill as a pilot.
To Bill, he was –
… a tradition, a simple man who exemplified the highest form of gallantry. He had become so much a legend in his short career that nobody actually thought of him actually being shot down.23
A few days after Captain Ball had gone missing in 1918, a German aircraft dropped a message over the airfield. It said Captain Albert Ball had been downed by "an honourable opponent" on the German side of the lines, and had been buried at a place called Annoeullin with full military honours.
It wasn't much to go on, but with a map and a bit of local help, Bill and Joy were able to locate Albert Ball's grave in a quiet glade of trees in the German military cemetery at Annoeullin. The owner of the small French village garage who gave them directions explained how he had witnessed Albert Ball's last moments.
"The combat," he said "started with a few enemy aircraft. Then others took off and he [Ball] was fighting them all, till he was shot down, and then fell in a picquet near a little wood about a hundred metres behind our house."24
Bill's pilgrimage had come to an end and the ghosts of the past had finally been laid to rest.
The quiet wood of German crosses, the monument over Ball, moved me deeply. These people, these fields, this country, were a part of me. I thought I had died. I was wrong. I had left part of my younger self there many years before. And now awakened perhaps by my presence, it returned silently to touch me with its strength, and gave me a calmness I have never known before. On the aerodrome at Vert Galant Farm and Estree Blanche I had found no real memory of aeroplanes, of danger, of the smell of burned castor oil from the rotary engines. The only reality was in ourselves, the living and the dead, and in the silent fields of gently waving barley which stretched away into the distance.25
Six years later, on 15 December 1966, Patrick Gordon Taylor died in Queen's Hospital, Honolulu. His ashes were scattered over his beloved Lion Island where the dreams of his adventurous life were conceived. He was survived by his wife Joy, their son and two daughters, and the two daughters from his second marriage to Eileen Broadwood.
After the war Bill was more than glad to return home and leave its memories behind him. A few years before his death in 1966 however, he managed to pen his final book and named it after his beloved Sopwith "Pup" Scout (numbered 7309).
In it he put into print his memories of his formative years and later flying experiences in the First World War. He dedicated it 'to all those who fought in the Air over France in the Great War of 1914-18.'
---
Resources
The Norman Carter portrait of Taylor is held by the Art Gallery of New South Wales.
His papers and family correspondence are held by the National Library of Australia and the Powerhouse Museum, which also houses Frigate Bird II.
Artefacts relating to Taylor's First World War service including a lucky black cat are held by the Australian War Memorial.
Patrick Gordon Taylor's military records are not held by Australia's National Archives – both his (AIR 76/498/27 PDF, WO 339/68144) and Ken's are part of the British National Archives in Kew, London.
Their names are not recorded on the Mosman memorial.
---
P. G. Taylor's post-war flying career
1933 — second pilot and navigator with Charles Kingsford Smith's first commercial flight across the Tasman Sea from Australia to New Zealand and back.
1933 — navigator with Charles Ulm — Australia-England-Australia.
1934 — with Charles Kingsford Smith — first Australia-

USA

flight, via Fiji and Hawaii.
1935 — navigator with Charles Kingsford Smith — Australia-New Zealand, flight aborted but returned safely after Taylor heroically, and six times, climbed along connecting strut to transfer oil from a disabled engine to the operating one — Taylor consequently awarded Empire Gallantry Medal (1937).
1939 — navigator with Richard Archbold on first flight across Indian Ocean — Australia-Kenya.
1944 — commander of survey flight Bermuda-Australia via Mexico, Clipperton Island and New Zealand.
1951 — South Pacific flight, Australia-Chile via Tahiti and Easter Island, Taylor consequently awarded the Oswald Watt Gold Medal.
Taylor was knighted in 1954, becoming, Sir Patrick Gordon Taylor.
---
---
Footnotes
1 Radi, Heather Taylor, Patrick Thomson (1862 – 1922) Australian Dictionary of Biography, Volume 12, (MUP), 1990 adb.anu.edu.au/biography/taylor-patrick-thomson-8764 retrieved 15/06/2016
2 Ibid
3 Souter, Gavin Mosman: a History Melbourne University Pres, Carlton, Vic 1994 p110
4 Ibid p111
5 Ibid p113
6 Ibid p113
7 Ibid p113
8 SYDNEY'S SUBURBS. (1896, September 6). Sunday Times (Sydney, NSW : 1895 - 1930), p12. Retrieved June 17, 2016, from nla.gov.au/nla.news-article130401424
9 Isaacs, Keith Taylor, Sir Patrick Gordon (1896 – 1966) Australian Dictionary of Biography, Volume 12, (MUP), 1990 adb.anu.edu.au/biography/taylor-sir-patrick-gordon-8763 retrieved 15/01/2016
10 Taylor, unpublished notes in MS 2594, Papers of captain Taylor, NLA; Searle, Rick The man who saved Smithy Allen & Unwin; Crows Nest, NSW 2015 p3
11 Ibid 9
12 Mosman Church of England Preparatory School. 2004, 100 years of Mosman Prep : 1904-2004 Mosman Church of England Preparatory School Sydney p18
13 Mosman Church of England Preparatory School. 2004, 100 years of Mosman Prep : 1904-2004 Mosman Church of England Preparatory School Sydney p12
14 Ibid 10
15 Taylor, P. G. (Patrick Gordon), Sopwith Scout 7309 London : Cassell, 1968 p8
16 Searle, Rick The man who saved Smithy Crows Nest, NSW; Allen & Unwin, 2015 p9
17 Ibid 15, p3
18 Ibid 15, p11
19 Ibid 15, p12
20 Searle, Rick The man who saved Smithy Allen & Unwin; Crows Nest, NSW 2015 p54
21 Ibid 15, p122
22 Ibid 15, p170
23 Ibid 15, p77-78
24 Ibid 15, p171
25 Ibid 15, p172