Stammering scores of German machine-guns spluttered violently, drowning the noise of the cannonade. The air was thick with bullets, swishing in a flat, criss-crossed lattice of death … The bullets skimmed low, from knee to groin, riddling the tumbling bodies before they touched the ground. Hundreds were mown down in the flicker of an eyelid, like great rows of teeth knocked from a comb … Men were cut in two by streams of bullets [that] swept like whirling knives … It was the Charge of the Light Brigade once more, but more terrible, more hopeless – magnificent, but not war – a valley of death filled by somebody's blunder.

– Private Jimmy Downing, 57th Battalion
---
Sugarloaf: no picnic
On the 19th of July 1916, the 5th Australian Division attacked entrenched German positions near the French town of Fromelles.
It was the first battle for Australian soldiers on the Western Front and is described as the worst 24 hours in Australian military history. Nothing could have prepared the citizen soldiers for the horrors of industrial warfare.
One of those volunteers, a clerk from Brierley Street, Mosman, served as a stretcher bearer at Fromelles with the 8th Australian Field Ambulance. The diary of W J A "Allan" Allsop will give us a vivid account of the battle.
The total casualties numbered 7,800 out of no more than 12,000 troops if there were that many. More than the losses at the landing in Gallipoli, and one of the hardest fought fights in the war to date. Men who were in Gallipoli told me personally that Gallipoli was a picnic to it.1
The objective for the Australian 8th, 14th and 15th Brigades was to capture trenches around the heavily fortified "Sugarloaf" salient on the Aubers ridge. This benign sounding geographical feature had been assaulted on 3 previous occasions, resulting in very heavy casualties for British units. Since then, the 6th Bavarian Division's Reserve Infantry Regiments (RIR), charged with defending the salient, had reinforced their positions. They waited behind 3 defensive lines of reinforced dugouts, concrete blockhouses, pillboxes, and a network of trenches and breastworks.
Wretched, hybrid scheme
The planning for Fromelles was doomed from its very conception. Australian Brigadier General "Pompey" Elliot called it "a wretched, hybrid scheme."2
The driving force behind it was General Sir Richard Haking, who had known British commander in chief Field Marshal Sir Douglas Haig from their Staff College days. Haig admired "Dicky" Haking's ideas on warfare, contributing to Haking's rapid promotion, many would say, in retrospect, beyond his capabilities.3
Haking held onto pre-war theories of attacking the enemy with "élan" – spirited and aggressive offense. Unfortunately, Haking's inability to adapt to the realities of modern warfare, his obsession with capturing the Sugarloaf, and his callous and interfering personal style, left him with the legacy of being one of the most hated generals in the British Army – "The Butcher."
Haig had amended and signed off on Haking's planned attack for Fromelles on the proviso that there was enough artillery and ammunition to do the job of breaking the German defences. A few officers spoke up about lack of munitions, clear objectives and changing priorities. Haking brushed these concerns aside and pushed on, regardless of consequences.
On the ground, "Pompey" Elliot was convinced the attack had no likelihood of success. He raised the issue with one of Haig's staff, Major Howard. Howard looked over no mans land and confided to Elliot that "It is going to be a holocaust". Sadly their predictions proved correct. The attacking troops were decimated, with some battalions recording up to 90% casualty rates.
Elliot was deeply affected by the pointless slaughter, watching as one wave after another went to their deaths. His 60th Battalion went into battle with 887 men. Only 1 officer and 106 Diggers turned up for roll call the next day. He is reported to have stood and waited for the survivors, shaking their hands with tears running down his cheeks as they returned.4
Why so much delay Australia?
On Wednesday the 19th of July 1916, Alan Allsop was with his field ambulance just behind the front lines.
Working hard at dug-out and finished it in the afternoon. 12 aeroplanes up. On piquet at night. Just before 6pm a frightful bombardment opened up indicating that the attack is being made. The deafening roar and clatter of these guns was such that I shall never forget it.5
The preparatory bombardment had lasted 7 hours. The Australian troops and their commanders were confident there would be none of the enemy left alive in the opposite trenches – surely no-one could survive such a pounding?
But the bombardment signaled to the Bavarian regiments that the expected attack was finally on. When the guns lifted, they came out of their bunkers and sighted the Australian troops attempting to advance.
The Germans, says Allsop, were prepared for 'something big.'
Just before the attack commenced Fritz hoisted a notice over his parapet reading "Why so much delay Australia? You are a few days late."
The Fromelles tragedy had begun to unfold. Co-ordination of the attack broke down right from the start. Those infantrymen not killed by counter artillery struggled and fell in the torn ground and barbed-wire of no man's land.
The lattice of death
A report by Hauptmann Hans Gebhardt, battalion commander for 11 company 16 RIR, gives some idea of what was happening there.
Having lifted their artillery barrage the English [British and Australian infantry] leapt over the parapet or left their trenches via masked exits. After initially leaving the trench they formed dense groups, then attempted to deploy in an attacking line. These [attacking] lines then proceeded to assault but failed to keep formation. The enemy tried four or five times to form such lines but were mostly shot down whilst still in groups and before they could organise.

Some of the Australians only left the trench hesitantly, and this is when their officers moved up with drawn revolvers and tried to move them forward. It then became obvious which were officers and these were shot down.

Some groups that began to withdrawn were encouraged to renew the attack by those still in the trenches; they quickly fell to our machine-gun and infantry fire like the others, if they had not already been cut down by our artillery. The enemy was obviously of the belief that our defences were so weak that they could be overcome, so when we opened fire they were completely taken by surprise and lost their heads. In a diary that we found, the entry for the 19th [July] reads: 'We are now about to take the German trenches; we think this will be very easy.'6
A terrible night
Private Allan Allsop was ordered to clear the wounded once the battle had begun. We gain a glimpse of the carnage unfolding at the battlefront through his diary entries [7]
On that night, Allsop had just settled into bed at 1am when "every stretcher bearer was ordered to dress and fall in prepared for the trenches to assist in clearing the wounded away."
We moved down the sides of roads under shelter of the hedges to the Rue du Bois, Fromelles, known to us as Rifle Farm. Star Shells were flashing out in the darkness and guns barked from all round us. When least expected, a terrific report from a heavy gun would almost throw us off the earth. We watched with a look of dread the artillerymen with their tunics off, charging the guns as fast as they possibly could. It was a fine sight.
He continued down the road, passing a parapet sheltering reserve troops.
Every step seemed to be a dangerous one. Surely the world has never before known such a terrible night as that which confronted us. The awful din and chaos in the trenches were proceeding from the spot we would have to enter in a few minutes.
He then reached a battered building, "Two Tree Farm", where the stretchers were piled up. His group were given orders – "two men to a stretcher and get across this piece of land to Rifle Villa." They started off, hitting the ground every 20 metres to avoid the fireworks – until they got to their pick-up point.
Bullets were flying past in hundreds. My word they had me bewildered. My friend Stan Wilson and I on arriving at Rifle Villa saw the frightful result of war. Here wounded lying in dozens and dozens were arriving from the trenches in front. We picked up our patient from amongst these mangled human beings and carried him right back to the motor about 1½ miles along the road, but this time we took no notice of bullets or snipers.
Allsop notes that before going into action they had been ordered to take off their Red Cross brassards in case they presented a target.
Carrying a stretcher, the pair passed a large batch of German Prisoners being escorted out, one of whom exclaimed "Trip to London!"
Dead and wounded lay in heaps
Allsop continued up the "trolly line" to battered old walls that ended in a "sap" – a communications trench leading to the front lines – which in turn lead on to the "R.A.P." (Regimental Aid Post).
No sooner had I entered this sap "Piney Avenue" than a bullet struck my steel helmet and nearly knocked it off my head. The sound caused my mates in front of me to look round. Happily, the bullet came at an angle so that the roundness of the helmet caused it to glance off. Moving on up "Piney Avenue" to the R.A.P. we kept pretty low and at times nearly lost our breath dodging high explosives and bullets.
At the Regimental Aid Post, Allsop with his mate Stan Wilson and 2 others were ordered up into the firing line to bring out the wounded.
The long communication trench which took us into the firing line was torn about with high explosives. Shrapnel was bursting in the air above us and machine gun bullets hit the sides of the sap in hundreds. Dead lay about on all sides and wounded were coming through though very slowly on account of the trench being used by so many troops. It is also frightfully narrow.
Arriving at the firing line, "grim sights" confronted Allsop and the other stretcher bearers.
Dead and wounded lay in heaps behind the parapet and worn-out Australians crouched close under cover. The looks in their faces and on the faces of those lying on the ground greatly impressed me. Chaos and weird noises like thousands of iron foundries, deafening and dreadful, coupled with the roar of high explosives or coal-boxes as they ripped the earth out of the parapet, prevailed as we crept along seeking first of all the serious cases of wounded.
Back and forth they traveled between the firing line and the aid post "with knuckles torn and bleeding due to the narrow passage ways."
"Cold sweat", not perspiration, dripped from our faces and our breath came only in gasps. The communication trench was about 1½ miles long. By the time we had completed 2 trips (six miles) with the numerous zig-zag turns in the trench and the stoppages caused by the traffic up and down, we were weak and completely exhausted. Stretcher-bearing is no light work.
What an insult!
By 8am on 20 July 1916, the battle was all but over.
Allsop had worked through the night and would continue on all through the next day. He and members of his crew would eventually fall into unconscious sleep, having utterly exhausted themselves.
A report of the battle in a British newspaper downplayed the affair as 'a raid.'
Whatever results were attained ours was the first Australian battle in France. Disgust and feelings of angry disappointment reigned for days afterwards when a report something like this appeared in the "Daily Mail". "A raid was carried out south of Armentieres in which Australians took part. We captured 140 prisoners." What an insult!8
The white-wash would not end there. Haking in his official report of the attack took no responsibility.
Unbelievably he accused the infantry of having a "clear run" to the enemy trenches. Haking then claimed the wire had been cut and defences destroyed prior to their advance "With two trained divisions the position would have been a gift after the artillery bombardment." He also blamed the "newness" of the Australians for the attacks breaking down, and slandered the British 61st Division for "not [being] sufficiently imbued with the offensive spirit."9
Breathtakingly, he concluded "I think the attack, although it failed, has done both Divisions a great deal of good" [author's emphasis].
The 5th Australian Division suffered over 5,500 casualties, rendering it incapable of offensive action for many months. The British and Canadians didn't get much further than their starting points and also suffered heavy casualties. The Germans lost over 1,600 men. Corporal Adolf Hitler, a message runner with the 16th Bavarian Reserve was unfortunately not amongst the dead.
The Fromelles diversion failed to draw off German reserves from the Somme offensive or confuse the Germans into thinking the main British attack would fall on the Aubers ridge. Having captured Haking's battle plans shortly after the attack started, the Germans where able to confirm their own suspicions – that Haking's latest attempt on the Sugarloaf was not where they needed to throw their military resources and manpower.10
Lost diggers of the 53rd
1. Behind the barrage
The 53rd Battalion was formed in Egypt with Lieutenant Colonel Ignatius Bertram Norris in command. It incorporated a wave of new recruits from Australia amalgamated with Gallipoli veterans of the 1st Battalion. The battalion was assigned to the 14th Brigade, 5th Division, and shipped to France in June 1916.11
Amongst the ranks of the 53rd were 3 Mosman brothers, Eric (29 years old), Samuel (20) and James Wilson (18). Their mother, Isabella, lived at "Myall" on Wolseley Road, whilst they worked at their father George Wilson's timber mill at Port Macquarie.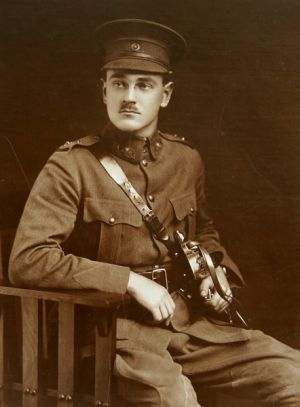 Another Mosman man was William Laing (22 years old, pictured right) who listed his occupation as clerk. Parents John and Sarah lived at "Kaituna" in McLeod Street.
The 14th Brigade formed up for the attack. The 15th was on its right, attacking the Sugarloaf, with the 8th on its left flank.
The British and Australian artillery was supposed to have cut the barbed wire and suppressed the German batteries and machine guns. Unfortunately, poor visibility and inexperience resulted in "drop short." "Friendly fire" (for the want of a better term) combined with enemy shells broke up the momentum of 5th Division's attack.
Reginald Hugh Knyvett, an intelligence officer attached to the 15th Battalion, wrote of this in his 1918 memoir, "Over there" with the Australians.
… we soon began to discover that the shells that were bursting among us were many of them coming from behind … Our first message over the 'phone was very polite. "We preferred to be killed by the Germans, thank you," was all we said to the battery commander. But as his remarks continued to come to us through the air, accompanied by a charge of explosive, and two of our officers being killed, our next message was worded very differently, and we told him that "if he fired again we would turn the machine-guns on to them." I was sent back to make sure that he got the message. I took the precaution to take back with me one of his "duds" (unexploded shells) as evidence.
The inexperienced troops hesitated and huddled together in an attempt to avoid the worst effects of the bombardment and became easy targets for the German machine gunners.
The 53rd Battalion's distance to the German front line was 250 metres. Just after 6pm those who had survived the artillery, minenwefer and enfilading Maxims scrambled over the enemy parapets. They engaged in hand to hand fighting, killing or driving off the Bavarian troops. Most of the enemy defenders were caught and killed emerging from their shelters. The rest were driven off their frontline breastworks. The 53rd then moved on to the second line of defences – a more substantial trench system known as the Wohngraben.12
2. Into the belly of the Wohngraben
Getting out of the trench works meant potential exposure to enemy fire. Lieut. Col. Norris and his staff had made it through no man's land to the enemy line, but were caught by a machine-gun as they moved forward to the Wohngraben. The last reported words of the 53rd's respected leader were 'Here, I'm done, will somebody take my papers?'13
Unfortunately, options for taking control of the situation were slipping away. Most of the officers had been killed to this point. The co-ordination of the attack was chaotic and communication between units had broken down. The decimation of the final waves of the 59th and "Pompey" Elliot's 60th Battalions in front of the Sugarloaf meant consolidating the 2nd and 3rd trench lines by the 53rd would be near impossible. Reinforcements would have to dig their way through the mud of no mans land under heavy fire.
Groups of men became increasingly disorientated behind enemy lines. Some were lost in the unfamiliar maze of the Wohngraben, others disappeared into the dust and smoke moving across open ground. Many were never seen again by their comrades. The supposed 3rd trench line identified from aerial photographs turned out to be waterlogged ditches and rank bogs – a very unwelcome revelation of those who were tasked with making it defensible.
By 7pm the German counter-attack had started in earnest. Despite constant pressure the 53rd were able to maintain hard fought positions until late in the evening. A small party of bombers held off the Bavarian advance on the right flank, taking 20 prisoners and then moving back to their own lines.14 Others replaced them and continued to resist with grenade, rifle and bayonet.
The close quarter bombing and counter-bombing (grenade throwing) peaked at about 3am. Fighting was desperate and confused and at times – telling friend from foe in the dark maze was almost near impossible. The counter-attacking Germans "were said to be unnerved by the darkness and the smoke, but primarily by the sheer fury of the Diggers' resistance."15
The bravery of Australian soldiers (mentioned in Bavarian reports) was not enough to halt their enemy's advance. The Bavarians kept on coming, driven on by their NCOs whenever they faltered, gaining ground metre by metre.
Exhausted, low on ammunition, and in danger of becoming trapped in trenches that had begun to flood with water, a general breakout from the 2nd to the 1st line of trenches had commenced by 4.30am.16
By 5.30am the situation was assessed to be hopeless. The order to withdraw finally got through to most of the 5th Division about 7.30am. Scattered groups made a fighting retreat. The unlucky ones were cut down in no man's land, some just yards from their starting points. Others dropped into half-dug communications trenches and scrambled back to safety. Those left behind were captured or killed.
3. Don't forget me, cobber
Of the 850 men of the 53rd who went into battle on the 19th only 227 soldiers answered their names when the battalion assembled on 21 July 1916.17 Sadly, the Wilson Brothers and William Laing were amongst the three-quarters of the battalion who did not return.
In all probability Samuel, Eric and James Wilson set off together with B Company into no man's land. James was wounded in the neck, probably before he made it to enemy trenches. It is possible his brothers helped get him to where a stretcher bearer could pick him up. James had bought himself a 'trip to London' – he would be patched up and sent to hospital in the UK to recover before being sent back to active duty.
Samuel and Eric pushed on. An eyewitness account report by Private Eli Taylor explained Samuel's last moments – probably during the fierce fighting retreat along the trenches in the early hours of the 20th of July.
He was bombing Germans in a trench when about fifty of them rushed out at him. He waited until they got quite near and then threw his remaining bombs down between himself and them. He held the sap alone and was himself killed by a bomb when the others had safely got away.18
Private E B Taylor from B Company verified this story, adding that he believed Samuel Wilson had been recommended for a decoration for his heroism.
Nothing is known of Eric's fate. The two brothers would have been hard to separate. It has been suggested that Samuel's rear-guard action may have been to protect Eric, seriously wounded nearby.19 The theory that they fell together takes on more plausibility in light of findings almost 100 years later.
William Laing's exploits during the battle was the fate of many "missing", a mystery, and to this day he remains 'known [only] unto God.'
Bearing witness, the stuff that men are made of
Knyvett describes the appalling aftermath of the battle.
The sight of our trenches that next morning is burned into my brain. Here and there a man could stand upright, but in most places if you did not wish to be exposed to a sniper's bullet you had to progress on your hands and knees. In places the parapet was repaired with bodies—bodies that but yesterday had housed the personality of a friend by whom we had warmed ourselves. If you had gathered the stock of a thousand butcher-shops, cut it into small pieces and strewn it about, it would give you a faint conception of the shambles those trenches were …
Out in no man's land –
There were men who were forty-eight hours without food or drink, without having their wounds dressed, knowing that the best they had to hope for was a bullet … again and again would they refuse to be taken until we should look to see if there was not some one alive in a neighboring shell-hole. They would tell us to "look in the drain, or among those bushes over there" … there were men there with legs off, and arms hanging by a skin, and men sightless, with half their face gone, with bowels exposed, and every kind of unmentionable wounds …
Kynvett recorded the stoicism and sacrifice of the living and the dying.
One of the most self-forgetful actions ever performed was by Sergeant Ross. We found a man on the German barbed wire, who was so badly wounded that when we tried to pick him up, one by the shoulders and the other by the feet, it almost seemed that we would pull him apart. The blood was gushing from his mouth, where he had bitten through lips and tongue, so that he might not jeopardize, by groaning, the chances of some other man who was less badly wounded than he. He begged us to put him out of his misery, but we were determined we would get him his chance, though we did not expect him to live. But the sergeant threw himself down on the ground and made of his body a human sledge. Some others joined us, and we put the wounded man on his back and dragged them thus across two hundred yards of No Man's Land, through the broken barbed wire and shell-torn ground, where every few inches there was a piece of jagged shell, and in and out of the shell-holes. So anxious were we to get to safety that we did not notice the condition of the man underneath until we got into our trenches; then it was hard to see which was the worst wounded of the two. The sergeant had his hands, face, and body torn to ribbons, and we had never guessed it, for never once did he ask us to "go slow" or "wait a bit." Such is the stuff that men are made of.
The past is a foreign field
The disaster at Fromelles was quickly swept under the carpet. It became known as the battle of "Fleurbaix" and a historical footnote to the British and French offensives further down the line. Pozieres and other battles followed – adding thousands of names to memorials and honour rolls in Australian communities. These battles were in turn dwarfed by those fought by the French and Germans at Verdun, the British on the Somme and at Ypres, and the final German and Allied offensives in 1918.
In recent times amateur and professional historians, archivists, battlefield archaeologists, scientists, government departments and the media have played a part in solving some of the mysteries of the Fromelles battlefield.
By the mid 2000s research work initiated by retired art teacher and WW1 enthusiast Lambis Englezos had gathered a strong body of circumstantial evidence based on cross-referenced photographic, archival, Red Cross and Commonwealth war records. Lambis and his group were convinced that the Germans had buried Australians in unmarked pits at the corner of a small wood near the town of Fromelles. They calculated that these mass graves could contain the bodies of about 167 missing Diggers.
After a lengthy and somewhat frustrating process, articles in the media and threats of a rival unofficial dig, a limited exploratory survey led by a British team was commissioned in 2008. Its findings revealed enough material evidence to recommend a full scientific excavation of the site.
Archived Bavarian regimental reports and orders20 confirmed the digging of a mass grave behind Pheasant Wood and verified that bodies were buried in this location. (General Haking and Lieut. Gen. Mckay refused to agree to a truce allowing the Australians to collect and bury their dead, adding to their unpopularity.) In all probability these mass graves contained the missing bodies of Australian soldiers collected by the Germans after the battle, as Australia's official historian C E W Bean inferred after the war in 1920.
The pieces of the jigsaw having fallen into place, the project gathered enough momentum to garner full Australian Government support. This led to a fully funded examination, exhumation and relocation of remains in 2009. A brand new cemetery and memorial was dedicated in a ceremony in 2010.
Through DNA testing, the national identities of re-interred bodies were announced in March 2010. 128 were found to be Australian, 3 were British, and 44 were unidentified. 75 Australians were identified by name. In May 2010 a further 19 Australian soldiers had been identified. Two identifications were announced on July 2010, one being Lieutenant-Colonel Ignatius Bertram Norris.21
This is just a brief outline of the story. The of finding the lost diggers of Fromelles had a few twists and turns before the dedication in 2010. As the Department of Veterans affairs site infers "This was a complex project."22
A cruel state of suspense
The anxiety felt by families whose sons were listed as "missing" is hard to understate. The shock of losing a son, father or brother was bad enough. Those families whose sons' remains were never found or had no resting place they could visit, were torn with unresolved grief.
Soldier's parents desperately sought any news of their son's whereabouts. Letters to the authorities from William Laing's mother, Sarah, reflect her personal torment. On October 9th, 1916, she wrote –
Dear Sir

I am in a cruel state of suspense about my son – No. 2973 Pte. W. L. Laing D Company, 53rd Battalion. Officially reported "Missing" July 19th 1916, would it be possible to find out if he is a "Prisoner of War"? It would be such a relief to us to know if his life has been spared …

When my son wrote last on July 15th he appeared to be well and happy … We had four letters and postcards in July. He was a most kind and considerate son and always wrote so that we would not worry. Would it be possible for us to know which engagement [he] took part in on July 19th? We do not know what part of France D Company 53rd Battalion was in on that date.23
Like many parents the Laings would have exhausted all official avenues of enquiry – International Red Cross, internment camps and hospitals. Private Laing was officially listed 'killed in action.' 14 months after he was listed "Missing."
His mother could not give up hope, she reminded officials that
"People have told me that in spite of messages saying their loved ones are dead, the missing have turned up,'' .
She hoped that, even if her ''boy's end'' remained unknown, his kit bag could be found.
"I live in hope there might have been a last letter to us left in it."24
William's parents put a memorial notice in the Sydney Morning Herald on 19th of July each year with words "To live in hearts we leave behind, is not to die."25
Sarah Laing's grand-niece Virginia Howard of Mosman tells of her pain.
We were told that though she [Sarah Wilson] lived until 1947, she never got over losing her son and never stopped pressing the army for information about him, long after his name appeared among the dead on the Mosman War Memorial.26
Brothers in arms
We can only imagine the reaction of Isabella Wilson, mother of Samuel, Eric, and James, when she learned her 2 older boys were "missing." Compounding her anxieties was that James had been wounded and could not be contacted immediately. The Wilsons would have been relieved when they heard from James, but this may also have raised their hopes about Samuel and Eric, until they were officially listed as killed in action.
In 1919 Isabella died of a broken heart, said to be a result of the loss of her sons.27
On March 17th 2010 the Joint Identification board released its first list of soldiers. Esther Gray, niece of the Wilson boys, got the phone call that closed a chapter in her family history. Of the 75 names released after DNA testing, they could confirm Samuel and Eric's bodies had been positively identified. They had been found. Esther recalls the moment.
I got the call from the Australian Army early in the morning, and when they told me I stood there and I could not believe it … it was just so emotional. Their family suffered such grief in not knowing. They passed on the need to know where they were.28
There was to be a poignant and fitting end to the tale. It became apparent that Samuel and Eric had been found in the mass grave pit side by side. The bodies had been recovered and re-buried unknowingly in Pheasant Wood cemetery next to each other.29 This raised intriguing questions – did the two brothers fall in battle close to each other? Were they placed together out of consideration and respect or due diligence? With all the death and destruction going on all around was this a thoughtful or compassionate gesture on behalf of the German soldiers?
If there is a silver lining to the Fromelles story it is this: the Diggers lying in the Pheasant Wood Cemetery lost for generations now have a dignified resting place. At last, surviving relatives (and others) can pay their respects, reflect on the futility of war and find a sense of peace.
Samuel and Eric Wilson are buried in Plot 2, Row E, Graves 1 and 2.
Bringing the dead back to life
In German reports after the battle the Australians were given high praise for their attempts to repulse the Bavarian counter-attack.
The enemy fought very bravely, defended himself extremely skilfully and held his ground with exceptional tenacity.30
The same could be said, in return, of the German defenders.
The Bavarians had won a hard earned respect from the Australians. Despite everything thrown at them, they had proved to be resolute opponents. Bavarian intelligence reports quoted war-weary POW Diggers after the battle. It was, as one Digger sardonically put it –
… almost as if the Germans [could] bring the dead back to life again.31
Ironically it was the professional record keeping, responsible disposal of the dead after the battle, and the preservation of regimental documents by the Bavarians that led ultimately to Diggers like the Wilson brothers being found at Pheasant Wood. In turn this has enabled researchers such as Peter Barton to be able to shed further light on what has been called the darkest 24 hours of Australian military history.
So considering recent developments, the Germans, strangely enough, along with everyone involved with the Fromelles project, really have played their part in bringing the dead back to life.
Goodbye to all of this
Many soldiers who served their countries in the Great War left behind un-reconciled relatives and inconsolable mothers. Amid the fear and anxiety of waiting to go "over-the-top," amongst the hellish, other-worldly scenes of the front line trenches – shells crashing all around, and the screams of proceeding waves of men being slaughtered in no man's land- they may have wondered if they would ever see home again. Family, friends and loved ones would most likely have been in their last thoughts. There are numerous reports of young lads crying out to their mothers before and after being cut down. In English, in French and in German.
The battle of Fromelles was intended to take pressure off the Somme offensive, already underway. William Hodgson MC, poet and author, was a bombing officer for his platoon, and his poem "Before action" was published two days before he was shot through the neck attacking a machine gun nest, on the first day of the battle of the Somme.
His poem is an invocation asking for strength to face his fate and an expression of gratitude – for the life and the memories he holds dear. It is, in the words of Wilfred Owen, an anthem for doomed youth. We will leave "smiler" Hodgson the last words – for those young men who walked through the shadow of the valley of death, 100 years ago.
"Before action"

By all the glories of the day
  And the cool evening's benison,
By that last sunset touch that lay
  Upon the hills where day was done,
By beauty lavishly outpoured
  And blessings carelessly received,
By all the days that I have lived
  Make me a solider, Lord.

By all of man's hopes and fears,
  And all the wonders poets sing,
The laughter of unclouded years,
  And every sad and lovely thing;
By the romantic ages stored
  With high endeavour that was his,
By all his mad catastrophes
  Make me a man, O Lord.

I, that on my familiar hill
  Saw with uncomprehending eyes
A hundred of Thy sunsets spill
  Their fresh and sanguine sacrifice,
Ere the sun swings his noonday sword
  Must say goodbye to all of this;--
By all delights that I shall miss,
  Help me to die, O Lord.

– William Noel Hodgson (1893-1916)
Their Name Liveth for Evermore
Mosman men who fell at Fromelles
Sources:
Their Name Liveth for Evermore - Mosman's Dead in the Great War 1914-1918, George Franki
References
Recommended reading
Official History of Australia in the War of 1914–1918
Volume 3, The Australian Imperial Force in France, 1916 (12th edition, 1941), chapter 12 and chapter 13
Books
Fromelles : our darkest day by Patrick Lindsay, 2007, 2016
Accessible, enjoyable read. Excellent introduction and explanation of the battle and all those involved. The second half of the book is devoted to the fascinating story of the discovery and re-internment of missing Australian war dead.
A chapter on Lance-Corporal Adolf Hitler who, unfortunately, wasn't picked off running messages between trenches. Interestingly enough Hitler's first evening – after signing France's defeat in 1940 in the train carriage used for German acceptance of unconditional surrender in 1918 – was spent with a few veterans of his old Bavarian division. Hitler paid a visit to Fromelles, took photos of the pillbox he sheltered in during the Australian attack and dedicated a plaque in his old billet.
Peter Barton opened a talk at Stanton Library in 2014 with one of the reasons why this battle was significant, bringing up a picture of a photo of two German commanders. "These two men would have known Adolf Hitler, he would have taken messages to them and taken messages from them to headquarters. Fromelles formed a part of the making of the mind of a monster. That was part of his formation, the formation of his mind, of what he had to endure in the First World War, his wounding and his gassing and then the appalling Versailles treaty." – Richard Jackson, "North Sydney Times":http://northsydneytimes.com.au/north-sydney-reviews/book-review-north-sydney-reviews/peter-barton-lost-legions-fromelles.
The following appendices were also useful and include the game changing Appendix VI Major-General von Braun Order No. 5220: Appendix I The Order of Battle, Fromelles; Appendix II The Missing Diggers of Fromelles; Appendix III 5th Division AIF Deaths, Fromelles. Appendix IV Casualties of World War I Appendix V Brothers who Died at the Battle of Fromelles; Appendix VI Major-General von Braun Order No. 5220.
The lost legions of Fromelles : the true story of the most dramatic battle in Australia's history by Peter Barton, 2014
Written by world's recognised leading Fromelles historian commissioned by the Australian Government to carry out research into the Pheasant Wood fallen. Excellent up to date research drawing on translations of German military documents. Unit and intelligence reports of interrogations of prisoners with interesting conclusions. Updated research on grave repatriations and comparisons with reporting by C.E.W Bean. Excellent full colour map plates from German archives. Paul Daley from the Guardian has a review.
Fromelles: the final chapters by Tim Lycett and Sandra Playle, 2016
"This is the story of a mission to identify and reclaim those lost Diggers. Former forensic crime scene investigator Tim Lycett details how determined volunteers worked with bureaucracies across the world to link the dead with their families nearly a century after the event. He brings to light the deeply moving personal stories of Australian soldiers who died on the battlefield of Fromelles, and who might otherwise have remained unknown forever."
The battle of Fromelles : 1916 by Roger Lee, 2010
Excellent break down of battle into stages, Brigades and Battalions. Analysis of big picture strategy. Biographies of key players. Excellent sub pages devoted to types of ordinance and technology — trench weaponry artillery, mortars, rifles, machine guns etc. Clear and relevant maps, some original help the reader understand to narrative of the battle. Colour photos of the Pheasant Wood dig.
---
Footnotes
1 W. J. A. Allsop diary, 2 July -13 September 1916. p 22, SLNSW – see also a browser for Allsop's diaries
2 Lindsay, Patrick Fromelles : our darkest day. Richmond, VIC; Hardie Grant, 2016. p73
3 Ibid. p70
4 Ibid. p75
5 W. J. A. Allsop diary, 2 July -13 September 1916. p , SLNSW
6 Barton, Peter The lost legions of Fromelles : the true story of the most dramatic battle in Australia's history. Crows Nest, NSW; Allen & Unwin, 2014. p216
7 W. J. A. Allsop diary, 2 July -13 September 1916. p , SLNSW
8 W. J. A. Allsop diary, 2 July -13 September 1916. p 21, SLNSW
9 Lindsay, p157
10 Barton, p251
11 53rd Battalion (Australia) History: World War 1
12 Lee, Roger & Australia. Dept. of Defence. Army History Unit (2010). The battle of Fromelles : 1916. Canberra, ACT Army History Unit p144
13 Mcrae, Toni, Remembering brave soldier, Norris
14 Lee, p144
15 Barton, p262
16 Lee, p145
17 Fromelles (Pheasant Wood) Military Cemetery — Stories of the dead
18 AWM; Red Cross Wounded and Missing 3534 Private Samuel Charles Wilson
19 Lycett, Tim & Playle, Sandra, Fromelles : the final chapters. Melbourne, Vic. Penguin 2016 p207
20 Lindsay, Appendix VI Major-General von Braun Order No. 5220; p229
21 Fromelles (Pheasant Wood) Military Cemetery: Identifications
22 Fromelles (Pheasant Wood) Military Cemetery
23 AWM; Red Cross Wounded and Missing: 2973 Private William Lewis Laing
24 Huxley, John, The anguish of not knowing a forebear's last hours and final resting place
25 Franki, George Their Name Liveth for Evermore: Mosman's Dead in the Great War 1914-1918
26 Huxley
27 Lycett & Playle, p208
28 Ibid.
29 Ibid.
30 Barton, p232
31 Barton, p299