Wilfred Joseph Allan Allsop (known as Allan) was a clerk from Mosman. He was born in Flemington, Melbourne in 1893; however it appears the Allsop family moved to Sydney as he gives his mother's address as "Arrabury"1, Brierley Street, Mosman at the beginning of his diary. The modern street address is 22 Brierley Street2. He appears on the St Clement's Anglican Church Roll of Honour.
Allan enlisted aged 22 on 12 August 1915 at Liverpool and embarked from Melbourne on HMAT SS Ascanius A11, 10 October 1915. He was a stretcher bearer and despatch rider for the 8th Australian Field Ambulance, serving in Egypt and France. He returned to Australia on the Sardinia, 19 April 19193.
His five diaries in the State Library of NSW cover the period 1915-1917 and were purchased by the Mitchell Library in 1920 for 12 pounds.
It was just one of over 200 diary and letter collections purchased as part of the European War Collecting Project which was established by the Trustees of the Mitchell Library in 1918. Widely advertised to returning troops in Australia and the United Kingdom, the Mitchell Library promised 'Good prices will be paid for good material'. Principal Librarian Ifould regarded the diaries as important sources for Australian students. His intention was that these items should be preserved and accessed for future generations to study.
The Mitchell Library now holds around 400 diary and letter collections from World War One.
A Mosman soldier's diary, what next?
At the Build-a-thon our group talked about how we might bring out the context of this particular diary online.
We split up the task – a volunteer per diary, to read through and annotate places, people and 'behind the lines' sport and entertainment. These might be mapped, and time coded, and presented alongside the text.
But how to balance the bespoke approach with a process that can replicated across a number of texts? I went looking for a solution and am still looking.
A face to the name, and a surprise find
Geraldine Walsh went straight for goal and the Monday after Build-a-thon tracked the Allsop family through the records at the Mitchell Library. She contacted Allsop's son, John, and learned that our man W.J.A. Allsop went by the name "Allan". John shared with us another of his father's diaries, one that wasn't purchased by the Mitchell, and a number of photos. We've scanned these – you can see them on Flickr – and in the course of that, we may have identified another of the Vignacourt 'Lost Diggers' photos.
The new diary, by the way, will be set up for online transcribing soon. It may be where he kept short notes, later writing them up more completely. His entry for Fromelles in the second Mitchell Library diary says "this report of our first engagement I am able to give it more fully than was possible at the time, seeing that this account is being rewritten months afterwards."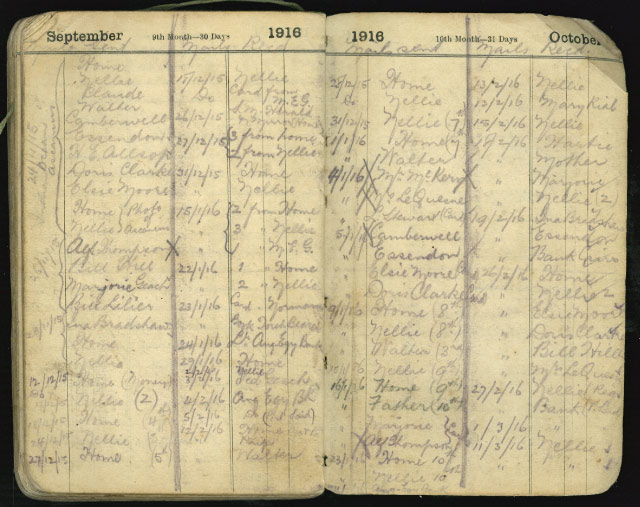 Dig, dig, dig
While going round in circles, I did hit on Voyant Tools via Bamboo DiRT, the registry of digital research tools Tim Sherratt recommended at Build-a-thon. Voyant Tools is "a web-based reading and analysis environment for digital texts" that is easy and fun to play with.
Here is the Allsop corpus I've been exploring.
In addition to the standard English stop words I've added page which appears regularly as an annotation in the transcription as well as days of the week and months of the year.
To set up your own text analysis, go to voyant-tools.org and paste in a text or one or more URLs. To create your own Allsop corpus, paste in these web addresses:
http://acms.sl.nsw.gov.au/_transcript/2011/D05516/a3041.html
http://acms.sl.nsw.gov.au/_transcript/2011/D04582/a3146.html
http://acms.sl.nsw.gov.au/_transcript/2011/D04800/a3147.htm
http://acms.sl.nsw.gov.au/_transcript/2011/D12150/a3148.htm
http://acms.sl.nsw.gov.au/_transcript/2011/D12151/a3149.htm
Distinctive words
You get a sense of Allsop's experience in this analysis of distinctive words (compared to the rest of the corpus) —
July 1915—July 1916 – canal (59), sand (40), water (56), camp (59), passed (47)
2 July—13 September 1916 – trenches (37), guns (43), farm (32), germans (19), wounded (23)
14 September—22 November 1916 – night (45), shells (27), pm (22), dump (20), fritz (26)
23 November 1916—4 January 1917 – wood (23), post (18), trench (13), shells (15), a.d.s [Advanced Dressing Station] (11)
1 January—31 December 1917 – a.d.m.s (68), hd (54), run (50), fine (63), 5th (51)
The first diary reflects his time in Egypt and at the Suez Canal with troop movements all around. From there to France, as a stretcher bearer in the thick of fierce fighting on the Somme, near places like Delville Wood. In 1917 he's a despatch rider, with daily runs to headquarters (his abbreviation Hd) including to that of the A.D.M.S. (Assistant Director Medical Services).
Tracing words
Clicking a word allows you to see where else it appears in the diaries. Allsop notes meeting others from Mosman several times.
[6 Jan 1916] Sandstorm still blowing & weather very cold. 7th Engineers arrived. Met numbers of Mosman boys including Bill Bennetts and Jim Kernaghan.

[17 Jan 1916] Digging dug-out. Xmas comforts given out – mostly from Mosman people.

[6 Mar 1916] Having a good look over the Field Bakery where 22,000 loaves a day are turned out. Saw Sherring from Mosman on an Artillery Waggon and Lieut. Sandford from B.G.S.

[12 Mar 1916] I returned to Tel-el-Kebir that night in company with Baker who lived opposite us in Holt Av. Mosman. He is a Serg. Major in the Camel Corps. I also passed Lenehan from Mosman on the Ismailia station.

[19 Mar 1916] Carrying water again all day for the cookhouse. I was surprised to meet Bert Newman from Mosman who is camped close to us with the Engineers.

[21 Mar 1916] Mail going through in four iron-barred vans. Met Smith & Cullen, the latter is a son of our Chief Justice. They both live in Mosman and were at school with me. Their Artillery Unit leaves today for France.

[31 Mar 1916] The 5th Division is now being concentrated at Ferry Post. Met Day & Sherring from Mosman.

[1 Apr 1916] Met Colin Smith an old tennis clubmate [Mosman?] who is now a patient in our hospital as a result of the march.

[28 May 1916] George Wooten from Mosman was Capt. in charge of the pontoon bridge as we crossed the Canal.

[26 Aug 1916] Went to baths at Bac St. Maur this afternoon and met Middlecoat from Mosman.

[2 Jan 1917] Met "Ginger" Smith from Mosman [at the famous caves of Naours]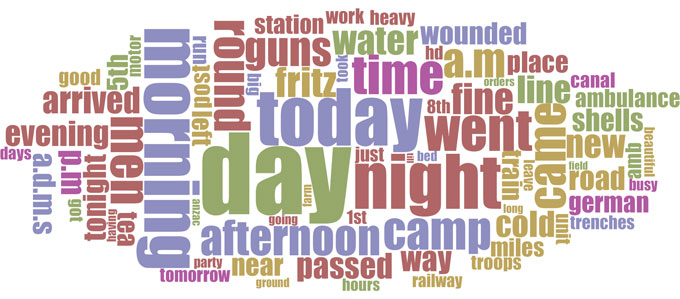 And the word cloud as a visualisation might be a cliche but it still gives us something.
Text perspectives
For any 'view' you create in Voyant Tools, you can export the data – or embed it on your website or share it via a link. For example, clicking the word cloud above will take you to a full screen instance where you can mouseover the words to see their frequency and click on them to see where they appear in the text.
What can you find?
---
1 The SLNSW transcription writes this as "Aurabury" but from other material, including the service record, it is more likely "Arrabury".
2 1939 'Family Notices.', The Sydney Morning Herald (NSW : 1842 – 1954), 12 December, p. 9, viewed 22 August, 2012, http://nla.gov.au/nla.news-article17636017
3 National Archives of Australia: B2455, ALLSOP W J A
---
Thanks to Elise Edmonds, Head of Pictures (Acting), SLNSW and Geraldine Walsh for their contributions to this post.
Update! See A browser for Allsop's diaries.