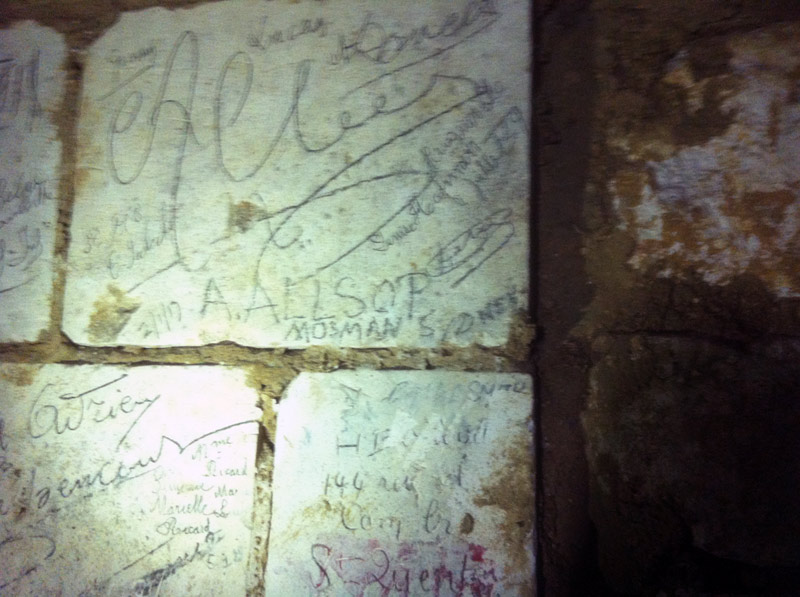 Mosman man Allan Allsop, stretcher bearer and despatch rider, made his mark in the underground city of Naours in Picardy, France. Thanks to Charles Lee, who is documenting the hundreds of soldiers' names written on the walls, we have a photo.
Allsop was billeted in Vignacourt, and the caves nearby were a popular tourist attraction.
His diary entry for Tuesday, 2 January 1917, reads:
Striking a hospital tent in the morning and erecting it again in another part of the grounds. At 1 p.m. 10 of us went to the famous Caves near Naours where refugees used to hide in times of Invasion. These Caves contain about 300 rooms, one cave being 1/2 mile long. A whole Division of troops 20,000 could be accomodated here, horses, artillery etc. The names of John Norton & Eva Pannett are to be seen autographed on a stone just inside the entrance. Met "Ginger" Smith from Mosman.
John Norton, said the Bulletin after his death in 1916, was "the most flamboyant example of the larrikin-demagogue that Australia has known." Eva Pannett was his neice, and, according to Mrs Norton, his lover. The Norton divorce trial was a popular sensation.
"Ginger" Smith was John Roy Smith of Bardwell Road, Mosman.
Allsop has written his name and "Mosman, Sydney". The graffiti is dated "2/1/17".