Valentine William Kelly — a slim, dark-haired draper from Victoria — was 25 when he signed up for the Australian Imperial Force (A.I.F.) in July 1915. His parents James and Emily Kelly lived in Mosman at a house named "Alda" in Calypso Avenue. Local philatelist Andrew Brockett recently came across some poignant postal covers that tell something of his story.
Val Kelly embarked for the Western Front on 4 April 1916. He was part of the 12th Reinforcements for the 22nd Battalion, aboard HMAT Euripides (A14). After training in England at Larkhill Camp near Stonehenge, Kelly joined his battalion in France in March 1917.
On May 3, Kelly was wounded as the 22nd Battalion 'hopped the bags' against strong German positions around Bullecourt. The 2nd Australian Division were attacking the Hindenburg Line.
Kelly, with a gunshot wound to the knee, was evacuated to the 1st Australian General Hospital, sited on the racecourse at Rouen. This historic capital of Normandy, forever associated with Joan of Arc, is one of France's finest medieval cities. Val Kelly was not too indisposed to visit. On 16 May — out of bounds without a pass — he was severely reprimanded for 'being in town.'
A month later he was back with his battalion, now building up its strength after the fierce fighting at Bullecourt. On 5 September, Kelly was promoted sergeant. Soon after, the battalion moved north, through Ypres, to take over front-line trenches on Westhoek Ridge.
They moved in on the night of 16-17 September, and the battalion held the line for a torrid 48 hours. Patrols were sent out to determine the enemy's strength and positions but they were heavily shelled all the while, with 21 killed and 49 wounded.
One of those soldiers killed was Val Kelly.
An account of his death comes from another sergeant in his battalion — Alexander Carter Cook — who was wounded at the same time.
Sgt. Kelly and [Private Hereward William] Ray were killed instantly with head wounds by a shell at Jabber Trench, Westhoek Ridge, on 18th Sep., time I was hit. I believe they were buried that night at the spot.
Kelly and Ray were buried at map reference 28.J.7.d.9.2 with a cross marking their grave. After the war their bodies were exhumed and re-interred at nearby Hooge Crater Cemetery.
The personal inscription on Kelly's headstone reads
LOVED SON
OF MR. AND MRS. J.A. KELLY
MOSMAN
NEW SOUTH WALES, AUSTRALIA
Val Kelly's parents lived in Mosman until the early 1920s. Correspondence in his service record shows that, by February 1922, James and Emily Kelly had moved to "Kuma", Albert Avenue, Chatswood. Emily Kelly was living at Richard Street, Greenwich, in 1938.
The covers
Below we have four envelopes ("covers") addressed to Val Kelly during 1917.
Each cover arrived on the Western Front after Val had been killed in action. The covers have been marked "K" (short for "Killed") in manuscript crayon and bear various "Unable to Deliver", "Return to Sender" and other cachets — these cachets were probably applied at the A.I.F. Base Post Office in London before the covers were returned to the senders via the Dead Letter Office at the civil post office in Sydney or in Melbourne.
1. Cover posted at Mosman on 17 July 1917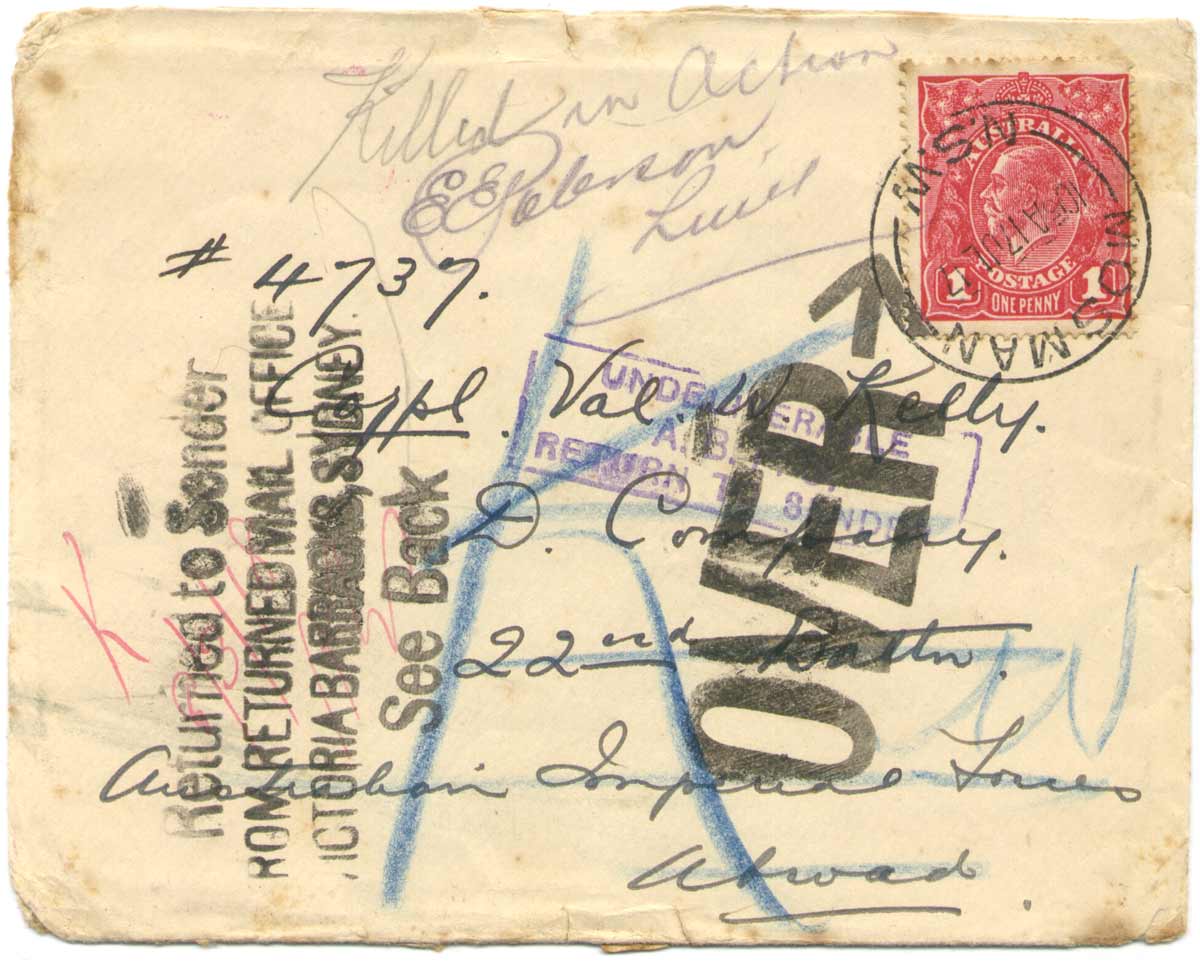 Manuscript "Killed in Action E E Paterson Lieut" — this appears to have been written by Lieutenant Ernest Ellerman Paterson of 22 Battalion (who was killed in action on 3 October 1918 near Estrees, France, during the Battle for the Hindenburg Line). Sender's details on the back of the cover: "E. A. Kelly Alda Calypso Avenue Mosman" — Val's mother.
2. Cover posted at Mosman on 3 August 1917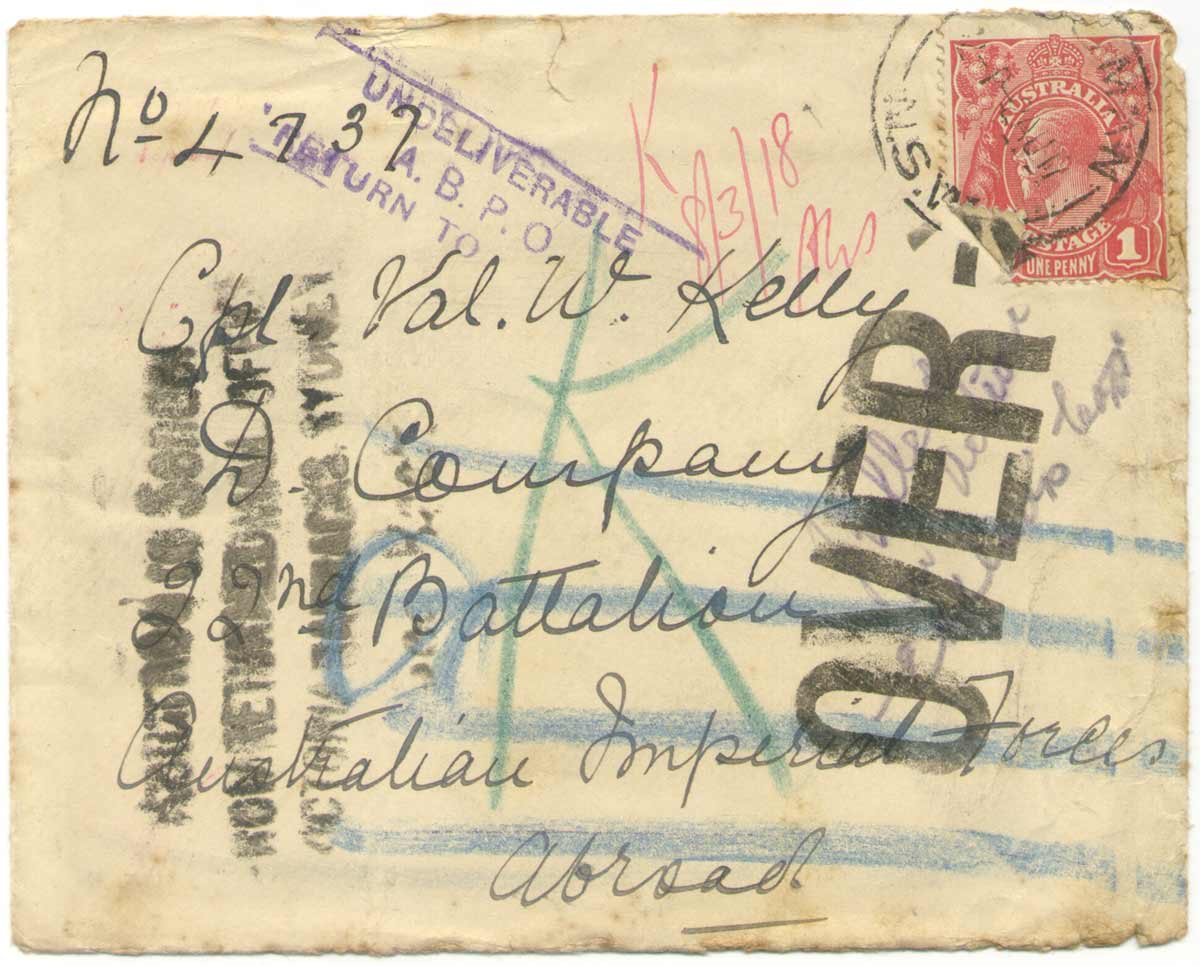 Manuscript "K 8/3/18" in red ink and "Killed in Action [????] Capt" in purple indelible pencil. Cover sent by Mrs J. A. Kelly — Val's mother.
3. Cover posted at Koondrook, Victoria, on 31 July 1917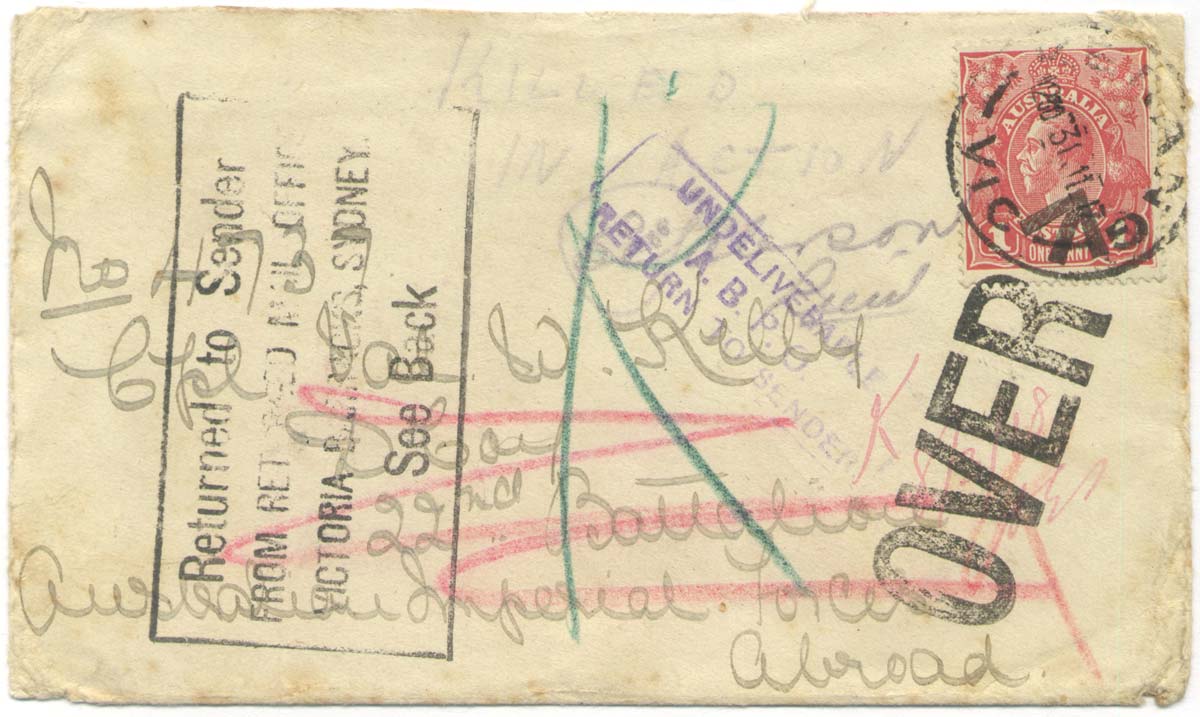 Faint notation in indelible purple pencil "Killed in Action E E Paterson Lieut" and "K 8/3/18" in red ink. Sender's address on reverse "R. Kelly Alda Calypso Avenue Mosman" — Val's sister Rene.
4. Cover posted by Rene at Koondrook on 17 September 1917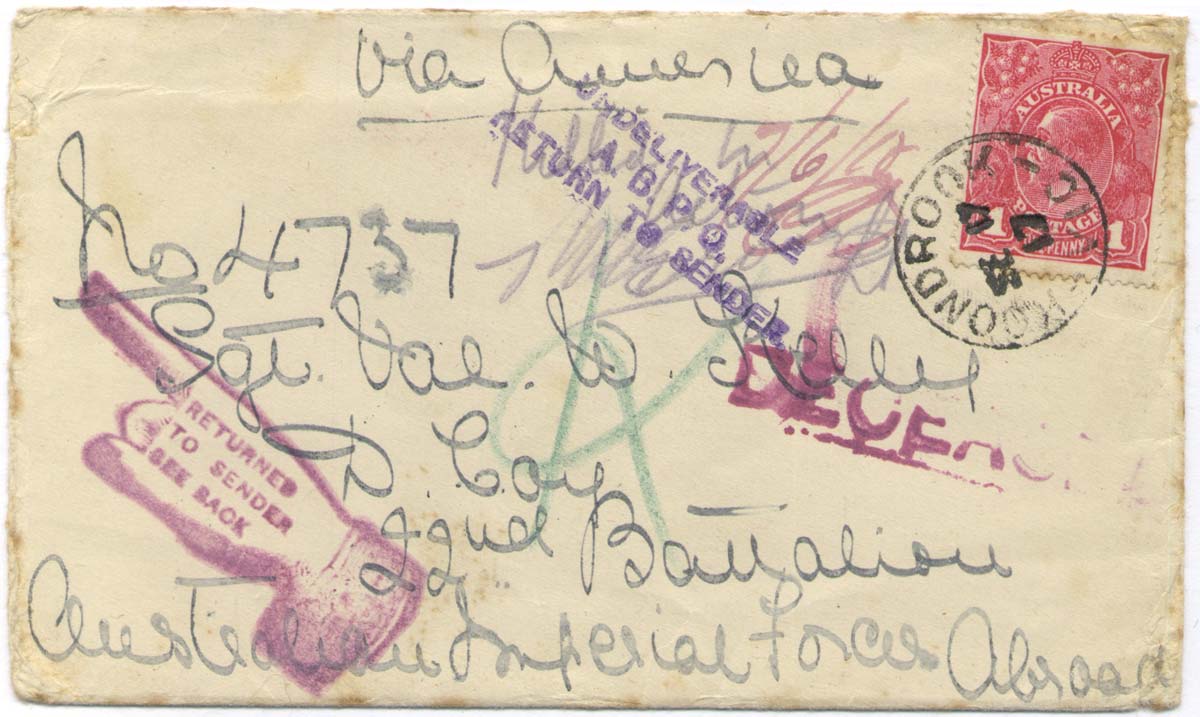 "Deceased" cachet in red ink.
Each of these covers has been franked by an Australian 1d red King George V stamp. The "KGV penny red" is perhaps the most keenly collected item in Australian philately. On issue from 1914 to 1922, the stamp paid the basic ½oz letter rate within Australia and the British Empire until the rate was increased by the introduction of a ½d war tax in October 1918. Millions of copies were printed by Government Printers and sold through Australian post offices.
The stamp's attraction to many collectors lies in the variety of papers, perforations, watermarks, colour shades, dies and printing flaws which are to be found in the issue. Prior to World War I, the Government Printer had used inks made with pigments imported from Germany. Following the outbreak of hostilities, these pigments were no longer obtainable and many experiments were carried out with inks made with pigments from other sources — both from within Australia and from overseas. The resulting shade variations were manifold. 1d red specialists now delight in attempting to classify particular stamps into such exotic sounding shades as "scarlet", "deep red", "carmine", "rose red", "aniline pink", "orange-red", "rosine", "plum", "terracotta" and "salmon eosin". This task should be carried out in bright natural light and is probably not one which is likely to catch on to any great extent within the wider populace.