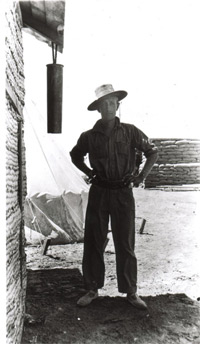 It has been rewarding in these early stages of the project to have made contact with the children and family of Mosman's service men and women. As you would expect, many no longer live in the suburb but have found material in our collection by searching the web.
The first was Angus Lang, grandson of Arthur William Houstoun (Bill) Lang, who came across his grandfather's photo on our Flickr stream.
Angus also found a reference to his grandfather in the diary of Allan Allsop.
Bill Lang lived at "Eastbourne", 30 Milner Street, Mosman. Angus has put together an excellent article on his grandfather that draws on unit war diaries and Bean's Official History to better tell his story. With Angus' kind permission, we make it available here for your interest and research:
---
Other resources