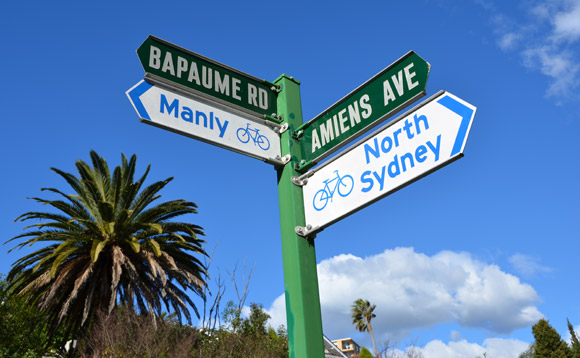 'It might be of some interest to local residents at least,' writes Jack Carroll in The Streets of Mosman, "to know how the Streets and Lanes of Mosman came to receive their "baptismal" names.' At least five have a WWI connection.
AMIENS AVENUE – Named for a First World War battlefield. The name was chosen by Mosman's beloved local medico Dr J. H. Phipps, one of the owners of Picardy Estate when he returned from his campaigning in Gallipoli and France.

BAPAUME ROAD – Named for a French battlefield of World War I.

BULLECOURT AVENUE – Bullecourt was the scene of a battle in World War I. It was gazetted 7/7/1950.

MILNER STREET – Probably given this name for Viscount Alfred Milner Imperial Statesman who served in South Africa – Secretary for War 1918. Secretary for the Colonies 1919-1921.

RYRIE STREET – This name remembers Sir Granville Ryrie MLA 1906-09 and Brigadier General in World War I 1914-18. [The War Memorial on The Crescent was unveiled by Sir Ryrie on 8 November 1925.]

Carroll, Jack & Mosman Historical Society 1981, The streets of Mosman, 2nd rev. ed, Mosman Historical Society, [Sydney]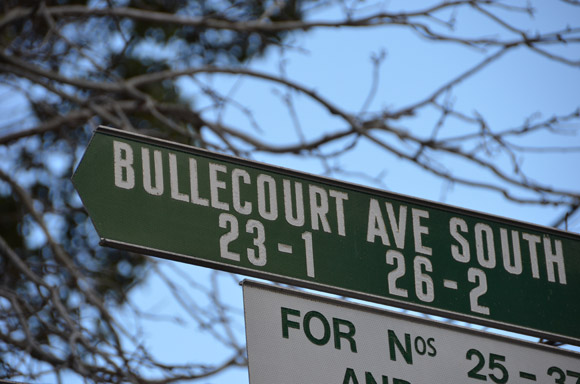 AMIENS, BAPAUME and BULLECOURT were all named by Lieutenant Colonel J. H. Phipps D.S.O., a surgeon with the Australian Army Medical Corps, 5th Field Ambulance.
The funeral of Dr John Hare Phipps formerly of Mosman took place yesterday afternoon at South Head Cemetery, and was largely attended. The Rev R J Cameron of the Turramurra Church of England who conducted the service at the graveside said Dr Phipps would long be remembered in Mosman for his work on behalf of the sick and suffering, and by returned soldiers for his service among them in Gallipoli and in other war spheres…

The Last Post was sounded by Trumpeter Major Joseph and a wreath was placed on the grave by Mr W. G. Wiesener, on behalf of comrades in the 5th and 15th Field Ambulance. There were many floral tributes which were taken afterwards to the Cenotaph in Martin-place.

1936 'DR. J. H. PHIPPS.', The Sydney Morning Herald (NSW : 1842 – 1954), 29 September, p. 8, viewed 2 July, 2012, http://nla.gov.au/nla.news-article17265997