Lots of people had questions about their photos and memorabilia at Scan-a-thon, so we turned to the wider, online community for help. We've learnt a lot!
---
This is a scan of a glass plate negative from a collection of letters and photos found by Dorothy Newland when packing up the flat of sisters Grace and Nell Newland at 3 Badham Avenue, Mosman. The five Newland children included boys Bert and Fred, who both served in WWI, and girls Grace, Ethel and Nell. Ethel served as a nurse in New Guinea in 1918. Grace and Nell were parishioners of St Clements Church for many years.
We posted this photo to the Inside History Facebook page and the collaborative effort is 92 comments strong at time of writing. It's likely the woman in the middle is Ethel Newland, back from service with the Tropical Force in Rabaul, and the small badge she's wearing is the 'Returned from Active Service' (RAS) badge. The photo was taken in 1919 or so, shortly after the war, perhaps at a wharf. Much of the discussion has centred on the man holding the fur however. He's a Military Cross winner, 28th Battalion, and the investigating team are down to about 12 or 13 possibilities. Maybe you can help!
---
The next photo ID was a little easier but still took some work.
Over on the Inside History Facebook page there was a great community effort to identify the date and place of this group photo. Particularly helpful was a Belgian who narrowed it down to the very chateau itself; Claire tells us it has recently reopened.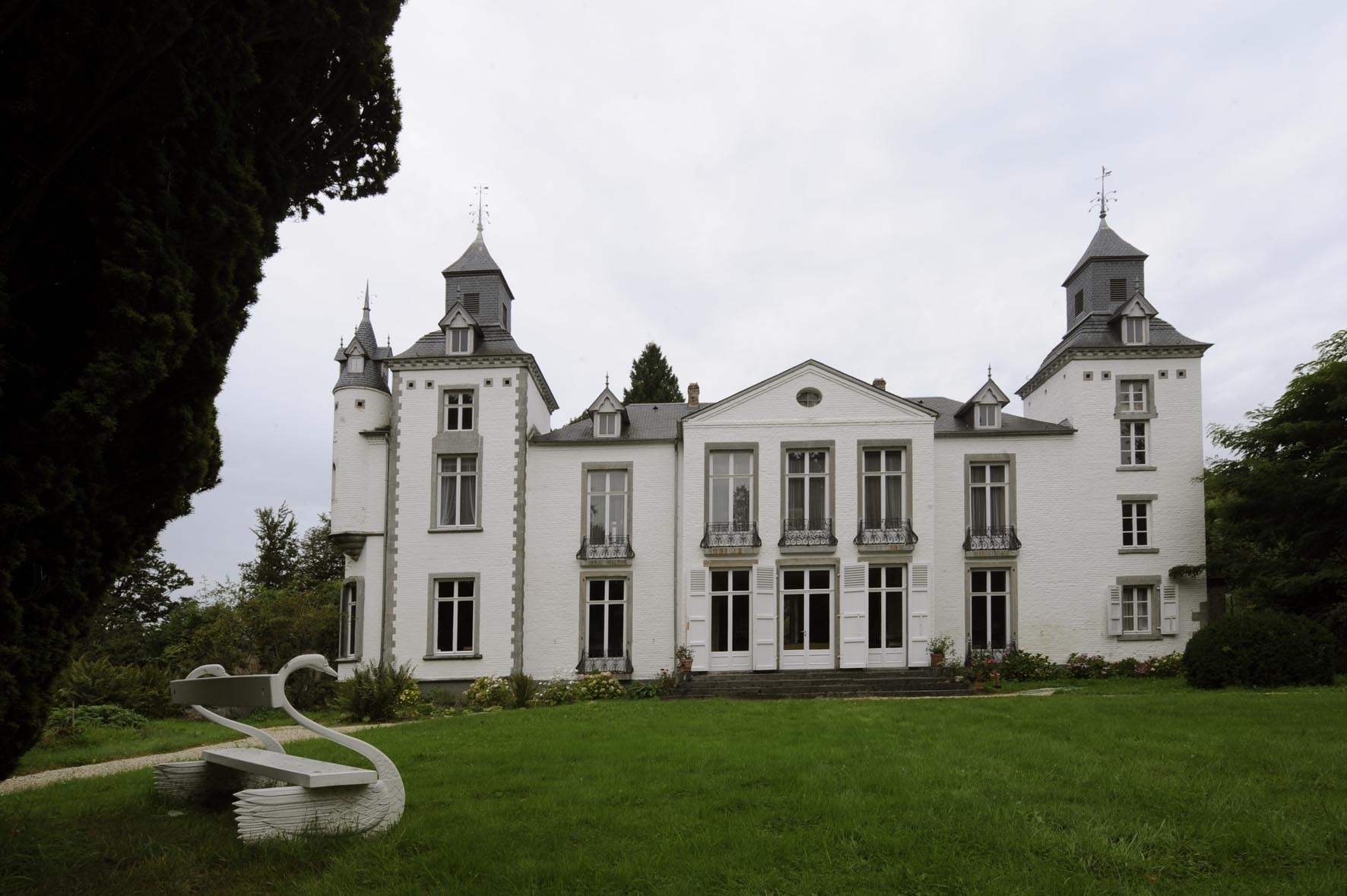 Frank Tindale's daughter, who brought in the photo, was delighted with the new information and said it means a great deal to her. She visited Belgium in 2010 but didn't know of the connection! She will try to make another trip and take a photograph at the chateau.
---
This, thanks to Scott Wilson, we now know is a souvenir belt. Soldiers would collect unit badges and attach them to a military stable or money belt. This one belonged to Thomas Lawson Murray Carnegie, 17th Battalion A.I.F. He was wounded on the Somme in July 1916 and invalided home, spending time at No. 4 Australian General Hospital, Randwick, and, we think, at the Auxiliary Hospital at Georges Heights. It was brought in by Thomas Carnegie's daughter-in-law, Christine.
Scott Wilson has kindly identified the badges and you can see them on Flickr by mousing over each of the 5 sections of the belt, starting here.
---
There are some other interesting items that you may be able to help us with. Right now we're working on this postcard from Charles William Tanzer to his mother in Mosman, sent from a hospital in Kent. His niece, Margaret Tanzer, who still lives in Mosman, has asked if the other men can be identified. Their families may not know of the photograph.
---
So – kudos to our photo detectives. You're doing your bit to record and preserve our history, make links between people and resources, and demonstrate how local public libraries and communities can find new ways to work together on the web!