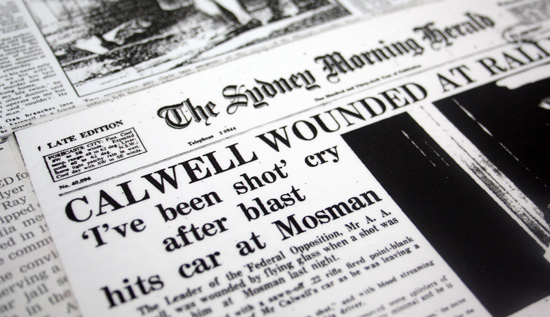 A Local Studies exhibition in 2009 – Mosman Headliners – revealed some of the great scandals and crimes that lie behind Mosman's apparent tranquility. One of the most significant came to a positive conclusion thanks in part to the WWI poets.
Arthur Calwell, Leader of the Australian Labor Party, was the victim of only the second attempted political assassination in Australia. It happened utside the present-day Council building at Mosman Square. The first, curiously enough, was of the Duke of Edinburgh (1844-1900) just across the water at Clontarf in 1868.
Calwell was leaving an anti-conscription rally at Mosman Town Hall when 19 year old Peter Kocan shot him.
Kocan approached the passenger side of the vehicle, aimed a sawn-off rifle at Calwell's head and fired at point-blank range. The closed window deflected the bullet, which lodged harmlessly in Calwell's coat lapel, and he sustained only minor facial injuries from broken glass. Calwell later visited Kocan in the mental hospital where he was confined for ten years, and forgave him for the incident.

Kocan was tried and found guilty of attempted murder. He was sentenced to life imprisonment and was detained first at Long Bay Correctional Centre in Sydney; in late December 1966, Kocan was transferred from jail to Ward 6 for the Criminally Insane in Morisset Psychiatric Hospital on the NSW Central Coast.

During his years in prison and hospital, Kocan immersed himself in history, literature and poetry after a chance remark by another inmate led him to discover the writing of Rupert Brooke…

Wikipedia accessed 16 July 2012
George Franki includes as an eloquent postscript to his book Their Name Liveth for Evermore: Mosman's Dead in the Great War 1914-1918 Peter Kocan's poem The photograph.
Sometimes in the homes of the elderly,
Among the shabby, cherished possessions
You will find a framed photograph
Of a young man in quaint uniform.

Slouch-hatted, posing with a full gaze.
'My brother Jim. He went to the war …'
And something in the aged voice conveys
The unspoken 'and didn't come home' …

The minds wherein he is enshrined
As son, brother, neighbour, friend, grow fewer.
Those brief, sliding minutes on the wharf
Have become sixty years.

Now in a musty room somewhere,
An old person makes a cup of tea
And a not-yet anonymous soldier
Stares out of the photograph.

Peter Kocan, 'Photograph', in Geoff Page (ed), Shadows on Wire: Poems and Photographs of the Great War, Australian War Memorial, 1983, PP.80 – 81