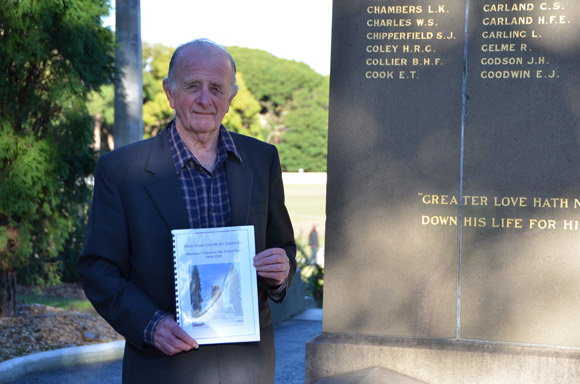 It was a pleasure to meet with author and historian George Franki on Friday. I am reading his book on Australia's most decorated soldier Mad Harry published in 2003 but more recently he has produced a fine work remembering Mosman's dead in the Great War.
In addition to the 201 names of the dead on the Mosman War Memorial, George Franki has identified another 134 who did not return. The scale of the tragedy in a suburb like Mosman is clear when the author lists the names of streets, familiar to us now, that were affected by the war.
It seems that almost every street in Mosman lost one or more of its sons in the Great War. Avenue Road had 14 fatalities. The following streets were given as places of residence or addresses of next of kin of Mosman soldiers who died:

Alexander Avenue, Almora Street, Avenue Road, Awaba Street, Balmoral Avenue, Bardwell Road, Belmont Road, Bond Street, Boyle Street, Bradleys Head Road, Cabramatta Road, Calypso Avenue, Cardinal Street, Central Avenue, Clanalpine Street, Clifford Street, Cowles Road, Cross Street, David Street, Dalton Road, Earl Street, Esther Road, Gladstone Avenue, Glover Street, Gordon Street, Gouldsbury Street, Harbour Street, Heydon Street, Holt Avenue, Keston Avenue, Killarney Street, Lennox Street, Magic Street, Mandolong Road, McLeod Street, Melaleuca Street, Melrose Road, Middle Head Road, Military Road, Milner Street, Milton Avenue, Mistral Avenue, Moran Street, Moruben Road, Mosman Street, Musgrave Street, Muston Street, Myahgah Road, Noble Street, Norman Street, Orlando Avenue, Ourimbah Road, Parriwi Road, Prince Street, Prince Albert Street, Quakers Road, Queen Street, Raglan Street, Rangers Road, Reginald Street, Rosebery Street, Royalist Road, Ruby Street, Shadforth Street, Silex Street, Spencer Street, Spit Road, Stanton Road, St Elmo Street, Tivoli Street, Vincenz (Awaba) Street, Union Street, Vista Street, Want Street, Warringah Road, Wilga Road and Wolseley Road.
George Franki has kindly given his permission for the book to be made available on this website.