Many Mosmanites were "doing their bit" closer to home as members of the military, voluntary workers, entertainers and fund raisers.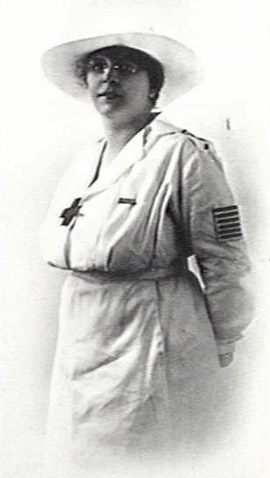 One of the most prominent of these was Annie Alethea Evans who was widely known and referred to as simply Miss Evans. She was active in a number of voluntary capacities and as Commandant of the No 8 Mosman Red Cross Voluntary Aid Detachment (VAD), established and ran the Anzac Buffet from late 1915. The Buffet was a place for returned soldiers to meet and relax with fellow returnees and their friends.
The Buffet started in premises in Young Street, then Ash Street (both co-located with the Amelioration Committee which provided financial assistance to returned soldiers) before moving to a dedicated building in the Domain, at the southern entrance near St Mary's Cathedral where it operated until 10 April 1920.
On "troopship days", the Buffet became the official meeting point for returning soldiers and their family and friends. On those days, Red Cross detachments from other parts of Sydney were rostered to assist the Mosman VAD.
The Buffet became widely associated with servicemen reuniting with their family and friends, as remembered by Constance Campbell:
Many a woman will have tender memories always of those enclosed grounds of the Buffet, for there the reward of her years of anxiety and loneliness has been bestowed, as her soldier came to her again. Scenes of gladness, scenes of sadness, too, have intermingled there, as the joy of reunion has been tempered with the shock of meeting one cruelly maimed or disfigured in the ghastliness of war.
A plaque placed in the Domain near the corner of Art Gallery and Hospital Roads, commemorates the Anzac Buffet:
THIS SPOT MARKS THE POSITION
OF THE ANZAC BUFFET
WHERE DURING THE YEARS
1916 TO 1920
82,000 SOLDIERS AND SAILORS
WERE OFFICIALLY WELCOMED BACK,
ON THEIR RETURN FROM
THE GREAT WAR.
ERECTED BY THE MEMBERS OF THE
MOSMAN RED CROSS No 8 VOLUNTARY AIDS.
Miss Evans was awarded the Order of British Empire (MBE) in 1920 for her work in connection with the Anzac Buffet. She was also awarded the Medaille de la Reigne Elisabeth by the Belgian King for her voluntary work to assist Belgium. The name of her brother Harrie Smalley Evans appears on the Scots Kirk Presbyterian Church Mosman Roll of Honour.
The original plaque was replaced in about 2007 as a result of damage and is retained by The Royal Botanic Garden Sydney & the Domain Trust.