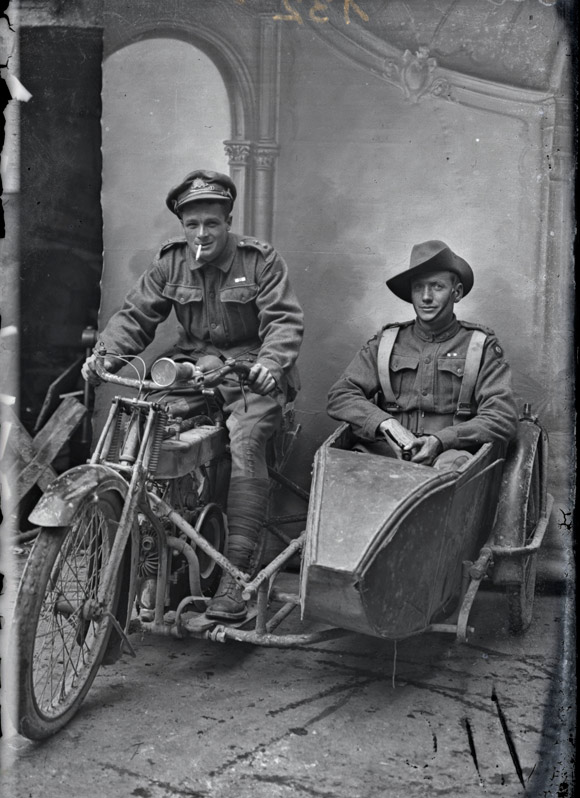 This photograph is just one of the thousands of photographs of Australian and other allied soldiers taken during World War I that have been discovered in France, in a find hailed as "wonderful and thrilling" by military historians.
The recovery of over 3000 photographic glass plate negatives in February 2011 was documented by a Channel 7 Sunday Night team in a dilapidated farmhouse in Vignacourt, near Amiens.
In 1916 Louis Thuillier and his wife Antoinette shot photographs of the soldiers as they visited the village for rest and recuperation.
Nearly 500 of the plates have been brought back to Australia and are slowly being identified by the Australian War Memorial for an exhibition opening in Canberra in November this year and then touring Australia.
It was in the process of identification that it was discovered the soldier in the side car was Sidney Hubert Carroll, brother of Dalton "Jack " Carroll, former Alderman, Mayor and Honorary Official Historian to Mosman Council.
Jack, aged 10, and younger brother Sid both born in New Zealand came to Australia in 1895 to live with their father's sister, Ellen Leahy and her husband Patrick "Paddy" Leahy who had founded the real estate agency P Leahy and Co.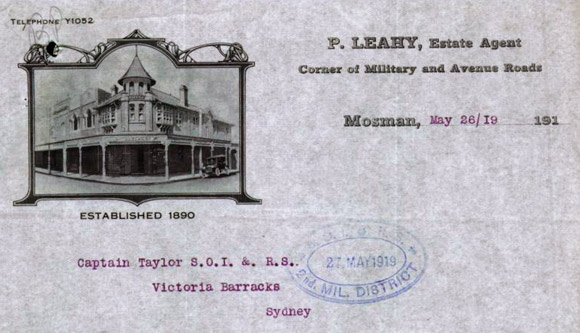 When Sid enlisted in January 1915 he listed his next of kin as Dalton Carroll care of P. Leahy and thankfully the real estate agency is still there today and still in the Carroll family!
Apart from the next of kin listing the Carroll family members were able to find other photos of Sid that positively identified him including confirming the Australian War Memorial staff's observation of his 'unusual long thumbs'!
---
Captain Sidney Hubert Carroll MC
Served with 2nd Light Horse Regiment at Gallipoli July-December 1915
December 1915 given 28 days Field Punishment No 2 for being "illegally in possession of certain supplies"
Transferred to 13th Machine Gun Company, April 1916
Promoted 2nd Lieutenant, 23 August 1916
Promoted Lieutenant, 2 January 1917
In January 1917 his brother Dalton writes on P.

LEAHY

letterhead to Department of Defence, saying he has not heard from Sydney for some considerable time and asking after him, concerned by a "Carroll" in a recent casualty list.
Mentioned in Sir Douglas Haig's despatch of 7 November 1917 for distinguished and gallant services and devotion to duty in the field
Awarded Military Cross (

AIF

List No. 340 dated 4/6/18)
Promoted Temp. Captain, 27 July 1918
Promoted Captain, 21 October 1918
His father writes May 1919 on P.

LEAHY

letterhead notifying Victoria Barracks that Dalton Carroll is no longer living at Mosman and to forward official notice of his arrival to him
Discharged June 1919
Captain Sydney Carroll MC appears in this studio group portrait of five

AIF

officers c.1919