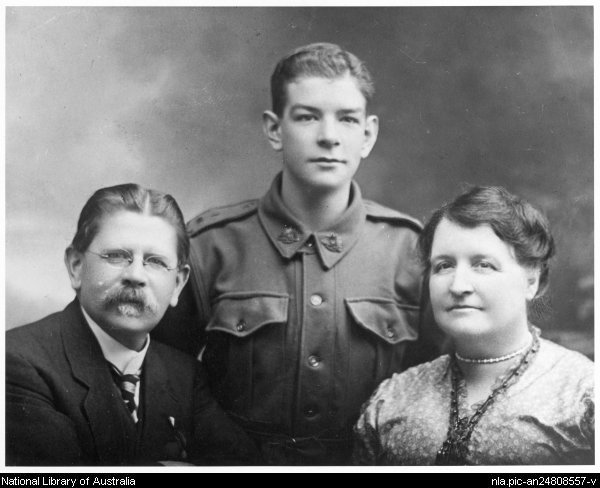 A Mosman boy of 15 who bluffed his way to fight at Gallipoli, was wounded and repatriated home only to re-enlist under his real name for the Western Front in 1917; a pioneering Australian aviator who saw the future of air travel decades before most, went broke several times doing it, and crashed in the Pacific just as formal recognition and a knighthood was to be his.
The story of Charles Ulm, who with Kingsford-Smith in the Southern Cross made the first successful Trans-Pacific flight in 1928, should be better known. That's the view of historian Michael Molkentin who spoke at Mosman Library this week with Charles Ulm's son, John.
Charles Thomas Phillipe Ulm – known even to his family, says John, as C.T.P. – was living at 'Leona', 27 Keston Avenue, Mosman when he enlisted in 1914, a month shy of his 16th birthday, as 'Charles Jackson'. His parents must have been complicit. Not surprising when you learn his father Emile Gustave Ulm was a Frenchman of Alsace, whose grandfather and uncle fought in the Franco-Prussian War of 1870.
Charles Ulm, with the 1st Battalion A.I.F., went ashore at Gallipoli. Wounded by a shell burst, he was shipped back to the hospitals in Egypt. After convalescing there he was returned to Australia in August 1915, "medically unfit." His mother, writing at least two letters perplexed at this second mishap, had it described to her as a "contagious disease".
The casualty lists from Gallipoli may have spurred her request to have Charles discharged from the army as a minor, but in 1917 both parents endorsed his enlistment, under his real name, for a second time. By then they were living at 'Terrigal', 35 Prince Street. 'You've still got all your limbs,' said his father, 'what are you doing back here?'
In France with the 45th Battalion, at "Corbie Canal" on the Somme as the Allies pushed back the German advance in June 1918, Ulm was again wounded, shrapnel ripping through his knee. Convalescing in England, a friend in the Royal Flying Corps took him on a series of exhilirating joy flights that decided his future.
On his return to Australia in 1919, Ulm was an outpatient at the 21st Auxiliary Hospital at Georges Heights. A photograph of around that time shows him with a typically forthright gaze, hands in pockets, sporting the blue armband that identifies him as a wounded soldier.
Charles Ulm is remembered in Mosman on the War Memorial and through his son and grandchildren.
"Mosman's the right place for the Ulms," says John.
---
---
Read more