The development and use of aviation 1914-1919. An illustrated talk by Gareth Morgan of the Australian Society of World War One Aero Historians.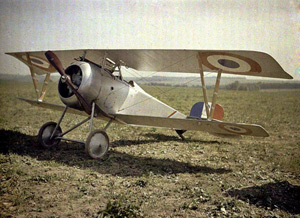 This was the period that saw aeroplanes develop from relatively primitive and unreliable contraptions with only a vaguely determined military role, into mass produced and relatively sophisticated specialist machines capable of a host of military duties.
As well as the incredible advances in aeroplane technology, the conflict saw the evolution of fighting techniques that are still in use today and the emergence of cult figures called fighter aces.
Australia played its part in the war in the air, being the only Empire nation to have its own air service, with a squadron in Palestine and three on the Western Front, plus four training units in the UK.
Men from Mosman served in the Australian Flying Corps, as well as the British Royal Flying Corps and Royal Naval Air Service, before they were combined into the Royal Air Force in 1918.
---
RSVP

online
---
Gareth Morgan
Gareth Morgan is a retired Commonwealth Public Servant who spent his career in aviation-related Departments. The final 25 years of his working life were in Aviation Security in Perth, Canberra and Sydney, much of it as the Department's NSW Regional Manager, responsible for the oversight of airline and airport security at major airports in NSW and Norfolk Island. In addition to working in Australia, and representing this country at overseas seminars on counter-terrorist measures, he was loaned to the Government of Vanuatu to establish an aviation security regime for that country, and lectured at courses run by the International Civil Aviation Organisation.
Australian Society of
WWI

Aero Historians

Since 1962, the Australian Society of World War One Aero Historians Inc has provided a Sydney-based forum for aviation enthusiasts with interest in the Great War of 1914-1919. The Society publishes two Journals each year as well as quarterly electronic newsletters and also engages in a varied program of meetings, outings, talks, and other activities. Similar societies are active in the United Kingdom and the United States of America.

Membership covers a wide cross-section of interests, including historical research, scale and flying modelling, book collecting, medals, memorabilia – and much more. The Society maintains a website at www.ww1aero.org.au which includes a great amount of specialist information and allows members access to all previous issues of the Journal, audio and photographic collections [converted to digital form] and other research tools. A comprehensive database, with information on the nearly 6000 Australians who served in air services (including the German Luftstreitkräfte) during the War was recently added to the website.

The Society meets quarterly at Building 96, Victoria Barracks, Oxford St, Paddington. The meetings are held in February, May, August and November, at 13:30 on the third Saturday of the month. Proceedings commence with a brief business meeting, followed by afternoon tea, and conclude with an entertainment segment. This may consist of talks on aspects of Great War aviation and associated topics, a video show, a modelling exhibition, or other activities with a WW1 aviation theme.
Webcast