Sir William Cullen & Family of Tregoyd in Mosman in the First World War. A talk by Tony Cunneen.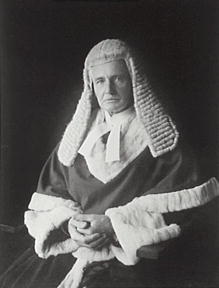 Mosman was passionate in its support for the First World War, both in terms of sending its sons into battle, but also in its energetic involvement in a wide range of war related activities on the Home Front.
Pioneering resident and Chief Justice of New South Wales, Sir William Cullen and his wife, Eliza, led many of these projects.
Both of their sons, Howard Clifford Cullen (pictured below) and William Hartland Cullen enlisted for active service and insisted on serving in front line units.
Sir William actively encouraged recruiting and supported many charitable appeals while his wife, Eliza, led Red Cross programmes. She was eventually State President of that huge effort. People trained in first aid in the Cullen's house, Tregoyd, in Raglan Street and the wide grounds were used to host fetes and afternoon respite picnics for wounded soldiers – all at the Cullens' expense.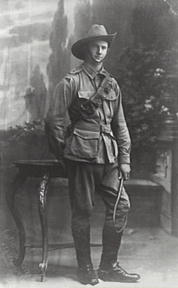 The Cullens were supported in these activities by many local families, including their good friends, the barrister Herbert Curlewis KC and his wife, the author, Ethel Turner.
As Lieutenant Governor, Sir William Cullen provided a steady, dignified leadership to the state and district when Sydney was rent by some of the most bitter divisions in its history.
Their story is one of service and dogged commitment to a cause which they saw as a sacred duty.
---
Tony Cunneen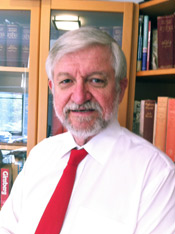 Tony Cunneen BA, MA, Dip Ed studied History and Education at Sydney and Macquarie Universities. He is currently the Senior Studies Coordinator at St Pius X College, Chatswood. As a member of the Francis Forbes Society for Australian Legal History he has written articles on the social history of lawyers in the Twentieth Century, with a particular focus on the First and Second World Wars. Hs work has been published on the Society's Website, forbessociety.org.au and in ; Bar News; The Australian Army Journal; The Law Society Journal; Wartime: The Magazine for the Australian War Memorial; JuristDiction; Digger Magazine and the Journal of the NSW History Teacher's Association.
He has presented papers related to this topic to the 2010 ANZ Legal History Conference in Melbourne, The 2011 Judges' Conference of the Dust Diseases Tribunal and delivered the 2011 John Laffin Lecture for the Family and Friends of the First AIF annual conference. He has been a regular speaker at RSL Sub Branches, community organisations and local history groups. In March 2012 he was one of the organisers of the Symposium on the Historical Connection between the Legal Profession and the Defence Forces held at UTS. In October he delivered the annual Francis Forbes Memorial Lecture on Sir William Portus Cullen at the New South Wales Bar Association. He has written over 20 articles on education and presented papers in that field at conferences in the USA and Australia. He has published two books, Suburban Boys at War and Beecroft and Cheltenham in World War One.
His most recent articles in Bar News outlined the experiences of New South Wales Barristers in the Second World War. He has an article on the interrogation of Prisoners of War in Korea in the current issue of Wartime Magazine. His great interest is the social history of local communities and the legal profession especially, but not restricted to, times of war. He has been greatly encouraged by the support shown to him by the Forbes Society as well as many members of the legal profession and their families who have granted him access to a wealth of personal papers or allowed themselves to be interviewed for his research. He invites anyone with information or similar interests to contact him at: acunneen@bigpond.net.au
---
Webcast
---
Image credits
Thumbnail: Sir William Cullen, 1921 – Cazneaux, Harold, 1878-1953 National Library of Australia nla.pic-an2383884-1