That's how Gordon Lacey signs off in what his mother notes is "my darling's last letter." Sent from the 1st Australian General Hospital at Rouen in France, the Mosman mailman writes to his chum Ficehurst [Ticehurst?] –
Just a line or two to let you know I did not peg out last Sunday although I came near doing so. I was hit again in the left leg after I left you. I have done my right leg, had it taken off above the knee and the left is not too bad now… I will be going to Blighty soon I will write again from there.
Gordon never made it back to England, or Australia, dying of his wounds three days later. He is buried at St Sever Cemetery just a short walk from where the hospital was sited.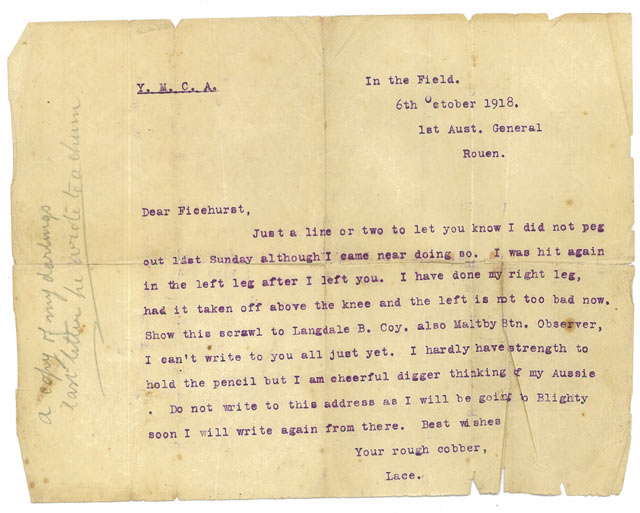 Ernest Stanley "Gordon" Lacey grew up in Mosman. His parents lived at 'Richmond', 24 Rosebery Street. He went to school locally and his name appears on the Mosman Public School Roll of Honour at what is now Mosman High. He worked as a mail assistant at Mosman Post Office before enlisting in 1917.
Wounded for the first time in May 1918, he returned to his Battalion, the 53rd, in August, just before they were to take part in two key actions, the Attack at Anvil Wood and the Battle of St. Quentin Canal (War Diary, September 1918). Lacey was hit by shell fire on 29 September, perhaps when moving up to the jumping off point for the attack. He was admitted to the 53rd Casualty Clearing Station the next day, reaching the 1st Australian General Hospital on 4 October.
Janet Croft, Gordon Lacey's niece, brought in a number of items to the Scan-a-thon last year and you can access these from our Local Studies Digital Archive by searching for "Lacey". Among the items were three diaries that we have uploaded to FromThePage for transcription. They are not particularly long, and the handwriting is easy to read. The first two cover the journey overseas, including Lacey's observations of the Panama Canal, and the third tells of England and France.
We would very much appreciate your help in transcribing these notebooks – Diary 1, Diary 2 and Diary 3.