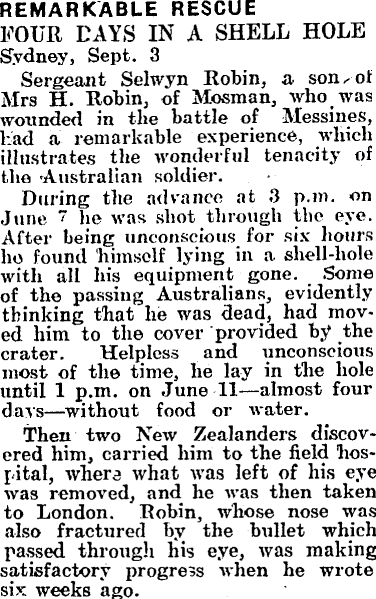 An article from New Zealand newspaper The Feilding Star, 17 September 1917. A remarkable story, but also a reminder that the excellent resources of New Zealand's cultural institutions can be just as useful for researching Australian service men and women. This story, for example, does not appear to be archived in Trove.
I came across the story when having a look at the new version of the DigitalNZ API. DigitalNZ is a partnership of more than 120 organisations led by the National Library of New Zealand that gives access to more than 20 million digital items.
Hedley Selwyn De Quettville Robin gave his mother's address – 6 Angetona Flats, Musgrave Street, Mosman – on his attestation papers.
If I am reading his service record correctly, he was treated at the 9th Australian Field Ambulance on 11 June 1917 before being moved to a Casualty Clearing Station, reaching the 3rd London General Hospital at Wandsworth on the 15th. His papers note "G.S.W. [Gun Shot Wound] Lt Eye & Nose, Severe." Robin was transferred to the 1st Australian Auxiliary Hospital at Harefield on 20 October 1917, returning to Australia for discharge in January 1918.