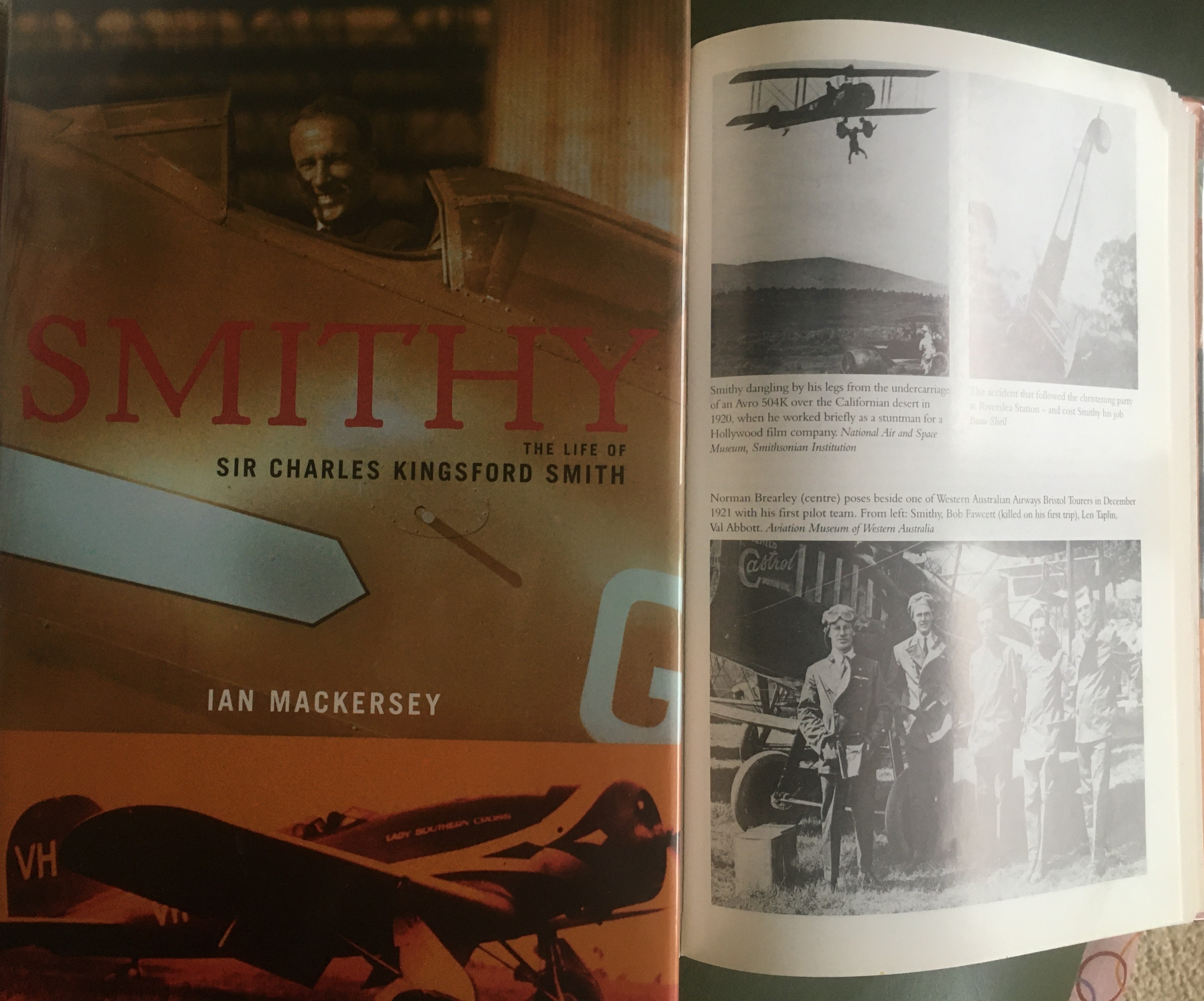 2/Ltn Charles Kingsford Smith recollected after arriving at La Lovie aerodrome, France:
I noticed many vacant places at the dining table and in the sleeping quarters. And the survivors, all youngsters like me [had] the faces of much older men
After just six weeks. Only three of the sixteen pilots Smithy graduated with were still flying. He probably felt older himself, and was lucky to still be alive. But this risk-taking lad survived the war, and became a household name in Australia.
Whilst researching Kingsford Smith, I came across Ian Mackersey's book Smithy. Mackersey was born in New Zealand and worked as a journalist. His clear writing style facilitates comprehension and enjoyment of the subject matter. He gives a balanced and well researched insight into the man behind the legend. I was only interested in specific information relating to Kingsford Smith's local connections and war service. However, I found myself reading and wanting to know more about this iconic character who pushed his life and luck to extreme limits.
Mackersey frequently quotes local resident Norman Ellison. Ellison knew Smithy and his book Flying Matilda devotes several chapters to his life. Letters quoted in Flying Matilda from the Kingsford Smith papers in the National Library are a recommended primary source for Kingsford Smith. Mackersey, in my opinion, is the go-to as a secondary source.
Several biographies have been written about Smithy, they range from the fraudulent to best sellers. Of all these I can recommend Michael Molkentin's book on the historic Pacific crossing with Charles Ulm across the Pacific. Molkentin spoke at Barry O'Keefe Library with Charles Ulm's son John, promoting the book's release. Kingsford Smith's recollections of his adventures in My Flying Life and Story of the Southern Cross also make good reading.
After reading Smithy I became interested in reading another of Mackersay's books, No empty chairs, did not disappoint. I read it from cover to cover. Although there have been plenty of books on the Great War in the air from 1914-1918, I thoroughly recommend this one as a general introduction, or refresher.
Articles using quotes from these books:
1919 Air Race: Why Smithy couldn't fly the Kangaroo
Where angels fear to tread: Smithy's baptism of fire
'God bless you all!!' Smithy's treasured postcard from Nellie Stewart