As the 100th anniversary to the ending of the war to end all wars draws near, it seems timely to re-cap with a highlights reel of the last few years.
Those magnificent men:
Bill Taylor
The illustration above is from the Strand Magazine It was amazing to view the story that inspired boy mascot company commander, Bill Taylor, to take up flying.
The following photograph below shows Lt. P.G. Taylor in France. His face is covered by a scary looking home-made leather mask (to protect against frostbite at high altitudes.) Taylor shot down several German aeroplanes in this aircraft.
Many WW1 pilots had lucky charms, Bill Taylor was no exception. His mother gave him a black toy cat as a mascot. Bill tied it to the aircraft's instrument panel, though it does not appear in the photograph above.
Charles Ulm
The image above shows Charles Ulm's enlistment form. After his 18th Birthday Charles Ulm re-enlisted giving his correct details. Note how his original information has been crossed out and re-written using red ink.
Ulm spent time in the Georges Heights Hospital recovering from his war wounds.
Charles Kingsford Smith

From story: Where angels fear to tread: Smithy's baptism of fire
Kingsford Smith was shot down in 1917. He survived. The above images show him recovering, and the man most likely to have finished his fighting career. Smithy's flying career ended in late 1935 when his aircraft disappeared over the Andaman sea (Charles Ulm had disappeared a year earlier on a flight from the U.S. to Hawaii.)
Bill Taylor, Charles Ulm and Charles Kingsford-Smith flew with each other on record-breaking flights after the war, the subject of a future story.
Red Baron rediscovered
Lt. E.C. Banks and the Red Baron's last flight
uncovered some personal connections. These included the discovery a fabric swatch taken from the Red Baron's triplane by my great-grandfather's brother. So old Uncle Bill's stories were true!…A 6th grade project re-discovered whilst finishing the article also added a nice sense of closure.
Is it a bird? is it a plane? no..
Its a Zeppelin! This photo was taken by a seaman aboard HMAS Sydney just as the giant dirigible, L43, was dropping its bombs high above…
The following photos were taken on a trip to the Fleet Air Arm Museum near Nowra. They were great for the article After Cocos: HMAS Sydney's progress.
From the same article another interesting image of Sydney's Sopwith Camel being dragged from the water. A reminder that these early aircraft were made of wood and canvas!
Maritime Memorials
HMAS
Sydney
This photograph of Sydney's Bow at Milsons Point was memorable. As
was taking it a huge storm swept in. With a few unlucky tourists I sought shelter under the Harbour Bridge, to keep myself, and more importantly the brand new iphone, from getting drenched.
The Mast at Bradleys head was snapped from a Watson's Bay ferry, heading back to the Quay. It was a bit blurry, so I used this one.
SMS
Emden
Taking photos from all angles, I tried to imagine the Emden gun unveiling on 21/11/1917. (The podium filled with dignitaries, speeches, and hecklers in the crowd.) I was once like the thousands of passers-by who have no idea about its history. Not any more.
Gallows humour
The following picture was used for Hill 60 and the lost 18th: Aug. 22, 1915. A perfect fit for the story by Joe Maxwell about his war experiences in the 18th Battalion with fellow stretcher bearer, the laconic and unflappable 'Murphy'. David Crothers Barker, the illustrator, had Mosman connections.
Who was she?
What was her life like?
I was able to add this scanned image from Trace to the Hill 60 post. There are very few online images of Cairo's inhabitants at the time. Sometimes the best places to look are right under your nose.
A General and his war horse.
The picture below shows the war horse 'Sandy'. His owner, General William Bridges stands behind. They were the only Soldier and horse to be re-buried in Australia.
The healing arts
The story Margaret Preston and the healing arts is less about 'the horror' and more, as the title suggests, about the arts. The photo below shows shell-shocked soldiers learning basket weaving . Margaret Preston (nee McPherson) is just out of the picture. Her black Scottish Terrier Little Jim, however, can be seen sitting next to her in the bottom right-hand corner!
A Letter from a father-soldier
These photographs from Trace were quite poignant.
Above, Joseph Edward Crew with infant son Leonard Frank (b. 28/08/1914.) Below is a letter to his daughter Winnie and 2 other children.
To my pretty little girl Winnie, here is poor daddy making pictures for his children. Look at the cocky with the pipe and hat. You be good and I will bring you something lovely. Love from Daddy xxxxxxxx
Captain Joseph Crew was killed in Belgium on 20/08/1917.
…and from a distraught mother
Sarah Laing wrote desperately seeking news about her son, 'missing' after the battle of Fromelles. One letter was scrawled on the back of a Taronga Zoo opening programme. A chance find whilst researching the story Cobbers remembered: Lost Diggers of the 53rd.
---
News and entertainment
The following images are from the Mosman Daily. What caught my eye were adverts for the Wings and Metropolis They appear near an article on Charles Kingsford-Smith and Charles Ulm's arrival in 1928.
Enemy aliens
Interesting photos I happened across included one of SMS Emden's crewmen proudly displaying models of his beloved ship. Images of Holsworthy (and other internment camps) show inmates engaging in organised sporting, social and cultural activities.
On the model ship theme I came across this eye-catching model presented to the Australian Government in 1925. The Ibuki is named after a mountain in Japan. Her sister ship Kurama's namesake was of even greater mythological significance.
The Ibuki was given in the spirit of friendship. Quoting the AWM:
Mr Yamasaki, stated he hoped the gift would be accepted 'as undeniable evidence that the same friendly and cordial relations will remain unchanged between the Commonwealth and Japan, and are as strong as when the 'Ibuki' conveyed the brave Anzacs to the battle front, there to gain imperishable renown for their patriotism and courage. I feel confident that the action of Japan in this instance will counterbalance and set-off some of the unkind words which misinformed people occasionally indulge in regarding the intentions of Japan towards Australia'.[i.e. Billy Hughes and the White Australia movement's xenophobia, Japanese Imperialist designs were still a few years away.]
Divisions on the home front
The two images below came from Trove for the post 2nd Lt. Bill Taylor and the Valentine's day mutiny, 1916. They depict soldiers marching through Sydney streets. A very rare visual record of what it was like on that hot, riotous day in February, 1916. (Thanks Bernard!)
Other stories on the industrial unrest on the home front include: The Blood Vote: Divisions at the Front, and at Home, and A light on the Hill: The Great Strike, 1917.
Bernard's finds
The first image comes from Bernard de Broglio's story I would not change with the ground grubs for worlds: Captain G. F. Malley M.C. It shows Captain Malley barnstorming over Martin Place. No photoshop here…!
The image below is from AIF graffiti links Mosman to Naours and shows stretcher-bearer Allan Allsop, 'was here' in the Naours underground, in 1917.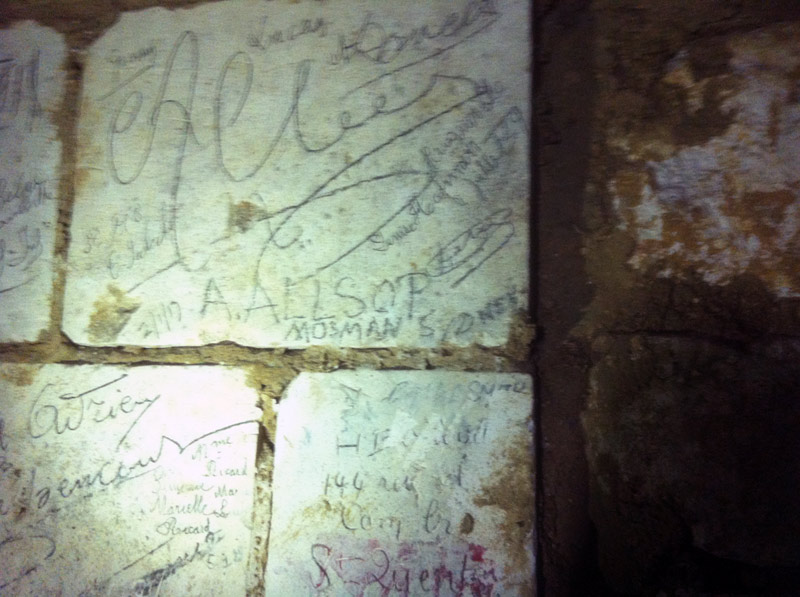 Other stories by Bernard include: Pusher ace: Captain Lancelot Lytton Richardson and Lucky 13: Dibbs at the front
Bernard got the project up and running and edited and posted my earlier articles. It has not been easy keeping the project going, but persistence has paid off.
Oh well, just a few more to go before my bit is done..!