Letters from the heart
Agnes Zena Miller of 'Egremont' in Raglan St. received and wrote love letters to Olaf Stapledon whilst he served as an ambulance driver with the Friends' Ambulance Unit. Despite being a conscientious objector, he was given an award for bravery. Olaf wrote to Agnes:
What next? Oh yes. This afternoon I was formally presented with my Croix de Guerre. The ceremony was simple. Brown, the second in command and acting chief, came along while I was going to tea, dug a packet out of his pocket and said, "Oh, glad I've met you: I can get rid of this." A piece of tissue paper enclosed the bauble, a bronze cross backed by two crossed swords, with a tiny head of La République Francaise in the centre, the whole hanging on the ribbon of which I sent you a snippet, and in the middle of the ribbon the modest bronze star…1
After long years of separation, the war ended:
…Well, girl, a dear letter came from you yesterday telling me about your interview with a benevolent gent on the subject of a passport. I laughed and could have danced for joy at that delightful incident, especially over the secret fact that the famous letter that you showed was the one I subsequently said I wished I had never written. But in case of further difficulties–Agnes Miller, I do ask thee to be my wife. Agnes Miller, I ask thee to come straightaway to England to marry me. Agnes Miller, I implore thee to come. Agnes Miller, I love thee more than I love any other soul… I, Olaf Stapledon, need thee Agnes Miller, and beg thee to come to England at once…2
After de-mobilization and delays due to surgery and transportation, the tyranny of distance was finally conquered. Olaf and Agnes were married in the Friends' Meeting House in Reigate, Surrey, on July 16 1919.
They drove off for their honeymoon in the Lake District in the same Sunbeam ambulance which Olaf had driven to the war and back. They were young and happy and they figured out the physical side of things quickly: their daughter Mary was born in May 1920, with a son, John, following in 1923.3
Other worlds
Stapledon gained a PhD in Philosophy in 1925. His doctoral thesis was the basis for A Modern Theory of Ethics (1929). He supported the fight against fascism in WW2, but remained an ardent socialist and internationalist. He also supported the formation of the European Union.4
However, he soon turned to fiction in the hope of presenting his ideas to a wider public. The relative success of Last and First Men prompted him to become a full-time writer. He wrote a sequel, Last Men in London, and followed it up with many more books of both fiction and philosophy4
Last and First Men was made into a film in 2017 and was featured as part of the Sydney Vivid festival in 2019.
John Maynard Smith said of Stapledon:
[he was]…a marvelous predictor who wrote science fiction books that I read when I was 16 and that completely blew my mind; and Arthur C. Clarke put his finger on quite a number of bright thoughts. He and I have something in common: we both took out of the public library the same science fiction book when we were boys of about 15 or 16, which was Stapledon's Last and First Men. We took it out of the same country library in Porlock in Somerset. Whoever put that book on the shelves had a lot to answer for!5
Keys to the study
Olaf Stapledon died in 1950. His last book, 'Opening Of The Eyes' was unfinished. The manuscript was 'tidied up' by Agnes and published posthumously in 1954:
She comments that it is not quite complete but there were no clues as to what other passages he had in mind, other than there were some planned. The opening of the eyes refers to his own, in that in the last few years of his life he had "Seen God's plan" and this put him at peace with life and himself.6
Agnes lived until 1984.
Agnes outlived her husband by thirty-three years: their relationship had begun as a strange figment in Olaf's mind and it ended as a slowly attenuating mountain of memories in hers. He nurtured a love for his nine-year-old cousin until she grew up and returned his love and came across the world to marry him; and after he died she preserved what she could. When Robert Crossley came to see the widow Stapledon, only a few years before her own death, she handed him the keys to her late husband's study, and there it was, completely unchanged for three decades. It was arranged for Stapledon's working papers to go to the University of Liverpool, but it later turned out that Agnes had kept two suitcases back. These too eventually came to the young American scholar. "Inside," wrote Crossley, "tied into neat bundles with coarse brown twine, were many hundreds of letters from Olaf Stapledon to Agnes Miller," along with many many–though far fewer–of hers to him.6
Footnotes:
1 A Century Back: Writing the Great War, Day by Day http://www.acenturyback.com/category/olaf-stapledon/
2 Talking Across the World: The Love Letters of Olaf Stapledon and Agnes Miller, 1913–1919 p 342-52.
3 A Century Back: Writing the Great War, Day by Day http://www.acenturyback.com/#note-20764-1
4 Wikipedia: Olaf Stapledon https://en.wikipedia.org/wiki/Olaf_Stapledon
5 Ibid.
6 A Century Back: Writing the Great War, Day by Day http://www.acenturyback.com/2019/01/06/olaf-stapledon-first-and-last/
7 Liel Leibovitz, Tablet. See also Moscowitz, Explorers of the Infinite (reprinted as intro to Darkness and the Light, 1974). https://www.tabletmag.com/jewish-arts-and-culture/books/81969/star-men
Appendix: Stapledon's works
It was said of Stapledon's science fiction works:
Most of us would rather embrace some ready-made hagiography of boy wizards or charismatic lions than read through an account of an ordinary man striving to understand that which is infinitely greater than himself. But this struggle, this desire to know, this conviction that even when empirical evidence is scarce rational explanations are still within reach—this is the spirit that has propelled mankind forward for centuries, and it must continue to be ours: The key to human evolution, Stapledon would argue, is to cultivate an open mind.7
Fiction
Last and First Men: A Story of the Near and Far Future (1930)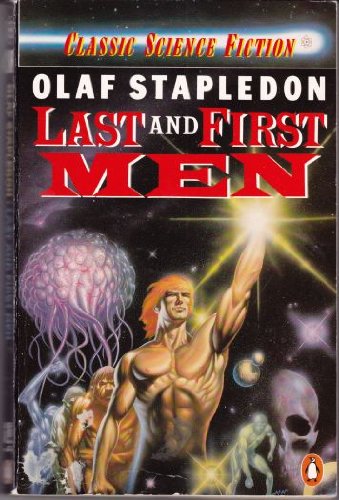 Last Men in London (1932)
Odd John: A Story Between Jest and Earnest (1935)
Star Maker (1937)
Darkness and the Light (1942)
Old Man in New World (short story, 1944)
Sirius: A Fantasy of Love and Discord (1944)
Death into Life (1946)
The Flames: A Fantasy (1947)
A Man Divided (1950)
Four Encounters (1976)
Nebula Maker (drafts of Star Maker, 1976)
Non-fiction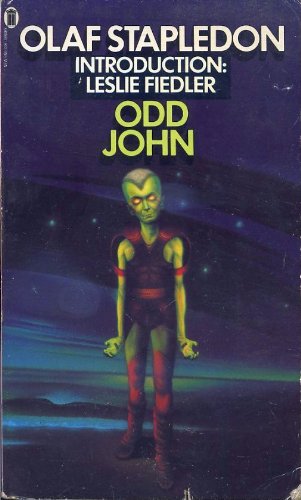 A Modern Theory of Ethics: A study of the Relations of Ethics and Psychology (1929)
Waking World (1934)
Saints and Revolutionaries (1939)
New Hope for Britain (1939)
Philosophy and Living, 2 volumes (1939)
Beyond the "Isms" (1942)
Seven Pillars of Peace (1944)
Youth and Tomorrow (1946)
Interplanetary Man (1948)
The Opening of the Eyes (ed. Agnes Z. Stapledon, 1954)
Poetry: Latter-Day Psalms (1914)
Collections:
Worlds of Wonder: Three Tales of Fantasy (1949)
To the End of Time: the Best of Olaf Stapledon (ed. Basil Davenport, 1953)
Far Future Calling: Uncollected Science Fiction and Fantasies of Olaf Stapledon (ed. Sam Moskowitz 1979)
An Olaf Stapledon Reader (ed. Robert Crossley, 1997)